Vistara contracts pilot training services for 5 years starting end-2018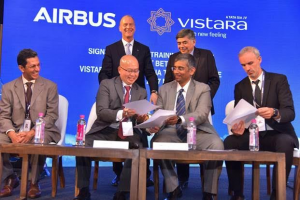 New Delhi, 17 March 2017 – On the day of its ground-breaking, Airbus India Training Centre also signed its first customer – Vistara – for providing A320 flight training services.
The 5-year contract will start end-2018 when the Airbus India Training Centre becomes operational.
The training package includes A320 full flight simulation, aircraft procedure training, computer based classroom training, standard pilot transition training with the support of Airbus instructors and the new Airbus upgrade to command course aimed at improving skills and maturity of First Officers that will take over the Commander's role.