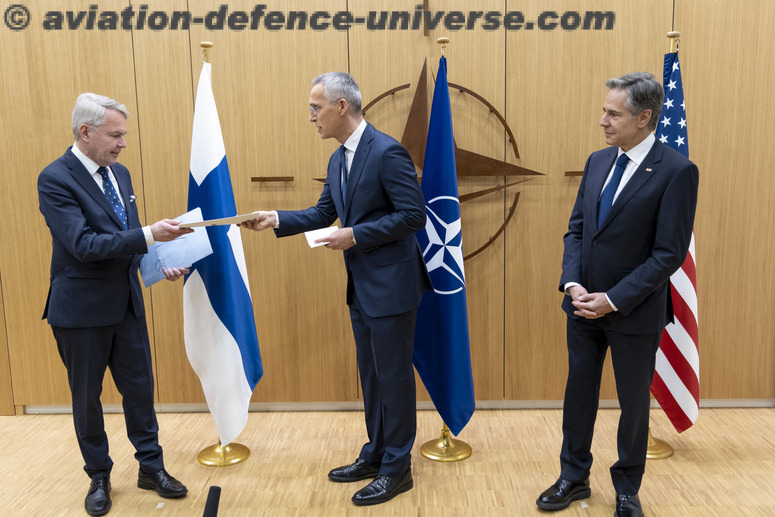 Brussels, Belgium. 04 April 2023. Finland became NATO's newest member today , upon depositing its instrument of accession to the North Atlantic Treaty with the United States at NATO Headquarters in Brussels. NATO Allies signed Finland's Accession Protocol on 5 July 2022, after which all 30 national parliaments voted to ratify the country's membership.
"We welcome Finland to the Alliance!," said NATO Secretary General Jens Stoltenberg, as Finnish Foreign Minister Pekka Haavisto deposited Finland's instrument of accession with the government of the United States, represented by Secretary of State Antony Blinken. The Secretary General then welcomed Finnish President Sauli Niinistö to NATO Headquarters for a flag-raising ceremony to mark the country's accession to the Alliance.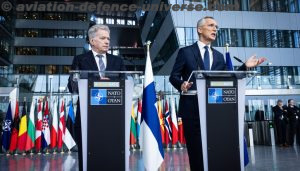 NATO Secretary General Jens Stoltenberg with the President of Finland, Sauli Niinistö after the ceremony addressed a joint press conference. Stoltenberg exhorted, "At times like these, friends and Allies are more important than ever. And Finland now has the strongest friends and Allies in the world. President Putin wanted to slam NATO's door shut. Today, we show the world that he failed. That aggression and intimidation do not work. Instead of less NATO, he has achieved the opposite. More NATO. And our door remains firmly open."
Reacting to a question on  Russia's reaction to enlargement of NATO towards the east or the north considering it a threat to Russia, Finnish President Niinstö replied, " Russia has been repeating that. President Putin took it up very clearly in December 21. And that was one of the reasons why the discussion in Finland arose. We don't want to be, or we do not want that other say what we should do and what we can't do. I had full believe, surely, on NATO.  NATO won't close its doors, but nevertheless that was … Russians, in a way, tried to create a sphere around them. And well, we are not a sphere. And  all these the result we see today."
Speaking ahead of the ceremony, the Secretary General thanked President Niinistö for his outstanding leadership and for leading Finland into the most successful Alliance in history. "I am deeply proud to welcome Finland as a full-fledged member of our Alliance and I look forward to also welcoming Sweden as soon as possible," he said. "Joining NATO is good for Finland, it is good for Nordic security and it is good for NATO as a whole," he added. The Secretary General also noted that Finland's accession shows the world that President Putin failed to "slam NATO's door shut." "Instead of less NATO, he has achieved the opposite; more NATO and our door remains firmly open," he said.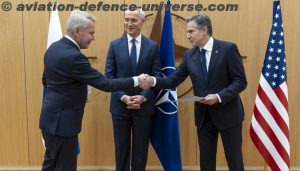 The Finnish national anthem and the NATO hymn were played, as Finland's flag was raised outside NATO Headquarters for the first time, in the presence of President Niinistö, Foreign Minister Haavisto, Defence Minister Kaikkonen, the foreign ministers of all NATO Allies and invitee Sweden. Simultaneous flag-raising ceremonies took place at Allied Command Operations (SHAPE) in Mons (Belgium) and Allied Command. Transformation in Norfolk, Virginia (United States). Standing alongside President Niinistö, the Secretary General said: "Finland is safer and NATO is stronger with Finland as an Ally. Your forces are substantial and highly capable, your resilience is second to none and for many years troops from Finland and NATO countries have worked side-by-side as partners. From today, we stand together as Allies."