Courtesy : ILA goes Digital website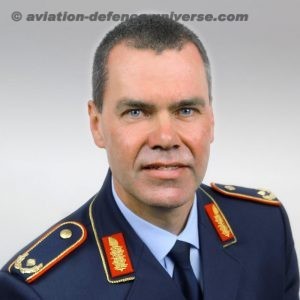 Munich. 29 June 2020. Brigadier General Gerald Funke, Dipl.-Ing.Head of Section Plg I Federal Ministry of Defence, Germany and FCAS Representative said , "We [will] not accept a technical interpretation [of an FCAS] that would give a system the ability to have another person killed simply by computing an algorithm. Humans will remain the sole determining factor and will have to make decisions with all consequence. "
"FCAS – a term that is becoming increasingly prominent in the vocabulary of Europe's security-policy community. For us, it stands for an airborne system comprising manned and unmanned components (the next-generation weapon system) as well as its integration in an overarching system that extends far beyond the airborne systems: the Future Combat Air System (FCAS), currently taking ever more concrete shape through French-German-Spanish cooperation. However – and this is where one of the challenges in the present discussion begins – it is not yet described concretely enough, which leaves a lot of scope for diverging ideas as to its technical conceptualisation. Particularly in view of ever more rapid cycles of technical innovation, it is no great leap to predict a development path that will reveal numerous opportunities and risks, with aspects that we are not even able to wholly comprehend at the present time. By the time the system goes into service, starting from 2040, these aspects will acquire additional facets and weightings.
However – and the volatile dynamic of innovations will certainly not make this any easier – entirely justified questions are already being voiced that go beyond the purely technical aspects of the future system to also raise ethical, moral and legal considerations.
Particularly potential applications of artificial intelligence (AI) open up a number of technical possibilities that we are only now beginning to understand. And of course, the German Federal Ministry of Defence as one of the customers for the FCAS is highly interested in receiving a system that will embody the latest state of the art when it enters into service starting in 2040. Based on our current concepts, we are convinced that the use of AI opens up opportunities that can contribute to better protection of non-combatants as well as our own troops, while being able to prepare decisions for our own actions more responsively and promptly, on the basis of significantly broader data. AI applications will be crucial when it comes to making use of greater quantities and a greater diversity of data from as many different sources and sensors as possible. Using, appropriately connecting and analysing a wide range of different data can make action recommendations available at all levels of military command, enabling more appropriate, more comprehensive and wiser decisions to be made. A human, the military commander, will still retain responsibility for the decision.
Although it may seem superfluous in light of the foregoing, I still wish to expressly emphasise that we will not accept any technical concept that would give any system the possibility to authorise the death of another person solely on the basis of the logic of an algorithm. Human beings will remain the sole determinants, responsible for decisions and all their consequences!
As the representative of the German Federal Ministry of Defence for FCAS, I am extremely grateful to Airbus Defence and Space GmbH as one of the German prime contractors for the future system, and to the Fraunhofer Institute for Communication, Information Processing and Ergonomics (FKIE), for proactively initiating a broad discourse extending beyond the bounds of the security policy community at a very early stage, and for involving the Ministry of Defence in the discussion from the start. The Ministry of Defence is contributing its position to the discussion on a basis of equality with all other participants. The fact that even the first event in September 2019 was successful in stimulating a broad public discussion, in which a wide range of civil-society groups were persuaded to participate – with a correspondingly broad diversity of opinions – makes me extremely optimistic about this process.
My actions will be oriented toward ensuring systematic further development of our capabilities within the scope defined by the responsible political actors. I am certain that the parliamentary oversight to which we are permanently subject, not least because every major financial step requires the prior approval of the respective legislative bodies, will also follow the development of the public discussion of the fundamental legal, ethical and value-related questions extremely closely.
In this sense, I hope that the discussion we have started can be expanded to include parties that represent the broadest possible range of relevant civil-society opinions, and is not hindered by reservations or aversions. We have certainly made a promising start!
It is important for us that all voices be heard, that discussions can be serious and respectful, and that a willingness to examine the other parties' arguments in good faith will prevail. This can promote the sharing of bare facts, and thus encourage more objective debate, and create understanding as well as the possibility of participants – on all sides – reconsidering their own positions.
The Ministry of Defence is prepared to engage in this process without reservation, and I am eagerly looking forward to further discussions."