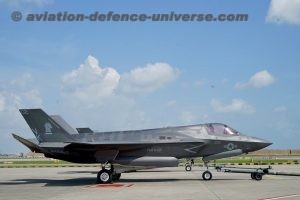 By Team ADU
Singapore. 05 February 2018.  Singapore skies are seeing the roar and thunder of the F-35B  courtesy the U.S. Marine Corps squadron of F-35Bs is permanently based at MCAS Iwakuni, Japan. Singapore though has put on hold plans to procure up to 12 of the supersonic fifth-generation F-35B stealth multirole fighter jets for the Republic of Singapore Air Force (RSAF), upto 2022, the fighter will fly over the skies of the city during the show flying displays.
Lockheed Martin F-35 Lightning II is a family of single-seat, single-engine, all-weather stealth multirole fighters. The fifth-generation combat aircraft is designed to perform ground attack and air superiority missions. It has three main models: the F-35A conventional takeoff and landing (CTOL) variant, the F-35B short take-off and vertical-landing (STOVL) variant, and the F-35C carrier-based Catapult Assisted Take-Off But Arrested Recovery (CATOBAR) variant. On 31 July 2015, the United States Marines declared ready for deployment the first squadron of F-35B fighters after intensive testing. On 2 August 2016, the U.S. Air Force declared its first squadron of F-35A fighters combat-ready. The F-35 descends from the X-35, the winning design of the Joint Strike Fighter (JSF) program.
F-35B aircraft have been delivered to the U.S. Marines and the UK. U.S. STOVL aircraft are stationed at the first operational F-35B base, Marine Corps Air Station Yuma, Arizona, and Marine Corps Air Station Beaufort, South Carolina, where F-35B training is taking place. The first UK F-35Bs are located at RAF 17 Squadron, Edwards AFB, California, where operational testing is being conducted. The Italian Air Force will also operate the F-35B.