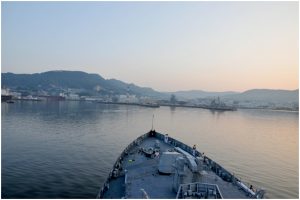 New Delhi. 10 June 2016. In consonance with India's 'Act East Policy' and growing relations among India, US and Japan, IN ships Satpura, Sahyadri, Shakti and Kirch are participating in the 20th edition of Ex MALABAR-16 with the USN and Japanese Maritime Self Defense Force (JMSDF).
IN and USN have regularly conducted the annual bilateral exercise named 'MALABAR' since 1992. Since 2007, MALABAR has been held alternatively off India and in the Western Pacific. The 19th edition of the exercise, Ex MALABAR-15, was conducted off Chennai and included participation by the JMSDF.
The 20th edition of the exercise, Ex MALABAR-16, is being conducted from 14 to 17 June 16 with the harbour phase at Sasebo from 10 to 13 June 16 and the sea phase in the Pacific Ocean from 14 to 17 June 16. The primary aim of this exercise is to increase interoperability amongst the three navies and develop common understanding of procedures for Maritime Security Operations. The scope of MALABAR-16 includes professional interactions in harbour and a diverse range of activities at sea, including complex surface, sub-surface and air operations.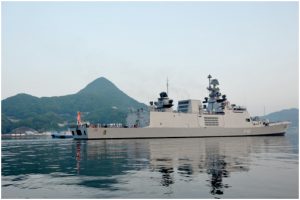 The IN ships participating in the exercise are from the Eastern Fleet and include INS Sahyadri and INS Satpura, indigenously built guided missile stealth frigates, INS Shakti, a modern fleet tanker and support ship and INS Kirch an indigenous guided missile corvette. The ships have embarked one Sea King 42B ASW helicopter and two Chetak utility helicopters.
The US Navy will be represented by ships from CTF 70 of the USN 7th fleet, which is based at Yokosuka, Japan. The CTF will include the aircraft carrier USS John C Stennis (CVN 74), Ticonderoga class Cruiser USS Mobile Bay and Arleigh Burke class destroyers USS Stockdale and USS Chung Hoon, all with embarked helicopters. In addition, one nuclear powered submarine, carrier wing aircraft and Long Range Maritime Patrol aircraft will also participate in the exercise.
The JMSDF will be represented by JS Hyuga, a helicopter carrier with SH 60 K integral helicopters and Long Range Maritime Patrol aircraft, besides other advanced warships for specific parts of the exercise. Additionally, the Special Forces (SF) of the three navies will also interact during the exercise.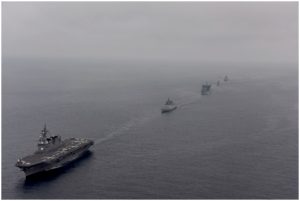 MALABAR–16 will be another significant step in strengthening mutual confidence and inter-operability as well as sharing of best practices between the Indian, Japanese and US Navies. The exercise will support maritime security in the Indo-Pacific region, and benefit the global maritime community.