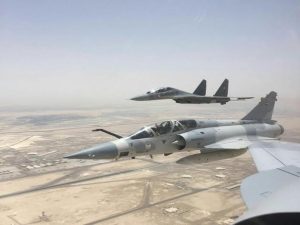 Abu Dhabi. 03 June 2016. Desert Eagle II, which was the second in the series of bilateral exercises between Indian Air Force (IAF) and United Arab Emirates Air Force (UAE AF), concluded . This was a ten-day air combat exercise in which the IAF and the UAE Air Force undertook air exercises from Al-Dhafra Air Base, Abu Dhabi starting from 22 May 2016.
It is pertinent to note that India and United Arab Emirates have strong bilateral relations which date back to more than hundreds of years. Both the nations have demonstrated keen resolve to engage each other in multiple facets and take the relationship to the next level. Defence Co-operation between the two nations gained momentum after signing of the 'Agreement of Defence Co-operation' during the visit of the Chief of Staff of UAE Armed Forces to India in 2003.
Exercise Desert Eagle-II saw the IAF Su 30 MKI participating along with Mirage 2000-9 and F-16 block 60 of the UAE Air Force. The Indian Air Force had participated previously in Desert Eagle I in 2008. While referring to the overall exercise, the team Leader Gp Capt H Assudhani said "This was an excellent opportunity for both the Air Forces to learn from each other and exchange best practices which in turn would be mutually beneficial."
A wide variety of missions were flown under the beyond Visual Range (BVR) environment with varied levels of complexities. Mission commanders from both sides participated in the Exercise and availed this opportunity to the maximum to draw valuable operational lessons. Despite the predominantly hot and arid conditions with temperatures well beyond 40 deg Celsius, IAF maintenance support staff succeeded in maintaining high serviceability state of aircraft and equipment.