Melbourne, Florida. 06 July 2022. Eve Holding, Inc. brought together representatives from its customers and partners to debate important aspects of the Urban Air Mobility ("UAM") environment, including operations, services and support, aircraft performance, Urban Air Traffic Management ("UATM"), cabin design and passenger journey.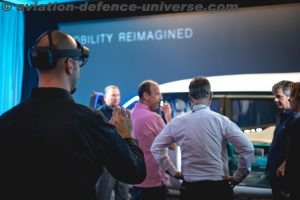 The event took place in Lisbon, Portugal, where more than 20 participants from over 10 countries gathered to help shape our shared approach to urban air mobility. Eve's broad spectrum of customers joined the event, including fixed-wing and rotorcraft operators, rideshare platforms and lessors, all with the objective of co-creating the future of UAM.
"We have been passionately working on our vision for the future of UAM. Eve's first advisory board is the epitome of our human-centric design mindset valued by our customers and significantly contributed by them. Interactions like this throughout the development of our solutions are essential to creating the right products and services for the market needs," said Flavia Ciaccia, Vice President of User Experience of Eve.
Companies such as Republic Airways, Halo Aviation, Blade, Falko, Fahari Aviation (a subsidiary of Kenya Airways), Bristow Group, Helisul Aviação, Flapper, Helipass, Widerøe Zero, Falcon Aviation, Avantto and others joined multiple collaborative workshops and presentations where votes and feedback were captured to incorporate insights into the development processes.
Andre Stein, Co-CEO of Eve, said: "It was incredibly constructive spending those couple of days with our customers and partners who could collaborate with insights on our UAM solutions based on their experience within their respective fields. All the feedback gathered will contribute to the evolution and maturity of our programs, including the eVTOL, services & support and UATM software. The result was extraordinary, reinforcing that we are on the right path with our collaborative approach toward the future of urban air mobility."
Included in this event was the unveiling of Eve's cabin mock-up, the most advanced yet, allowing the Advisory Board's participants to share their operational knowledge and advocate on behalf of their end customers. The mock-up will be also featured in the next Farnborough International Airshow.