Tel-a-Viv. 09 June 2022. UVision Air Ltd. is to present an integration of its high-precision Hero Loitering Munitions into Rheinmetall next generation manned and unmanned infantry fighting vehicles, at Eurosatory 2022 (Rheinmetall stand# F240-241).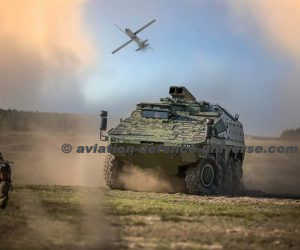 The integrated solution provides frontline forces with a new independent ability to locate, track and accurately eliminate heavily-armored targets from long ranges, in challenging battlefield conditions, including GPS-denied environments and communication jamming, without the need for external support. The joint solution provides forces with a combination of advanced ISR and long-range heavy firepower that until now could only be achieved by complicated cooperation between several units and echelons.
"Our combat-proven loitering munitions respond to growing demand for high-precision weapon systems to suit the realities of the modern warfare. The HERO systems with their unique characteristics are becoming a core required capability of leading armies worldwide." says Major General (Ret.) Avi Mizrachi, CEO of UVision. "Only seven months ago, UVision Air Ltd. and Rheinmetall signed a strategic partnering agreement for loitering munitions. I am proud to say that this collaboration has already yielded business success. We are confident that the integration that we are presenting for the first time at the exhibition will yield more deals soon."
An important tactical advantage of the field-proven HERO systems to military forces lies in their high precision strike capabilities. The unique design of the Hero HERO Loitering Munition makes it possible to conduct precision attacks in urban areas or remote locations while avoiding collateral damage. With this integrated solution, autonomous unmanned and manned ground vehicles extend the breadth of the military forces' potential and operational effectivity, by providing high-precision strike capabilities.
The integrated solution displayed at Rheinmetall's is yet another step forward in the cooperation between Rheinmetall and UVision. The strategic partnership leverages both companies' capabilities to provide the European market with precise, combat-proven weapon systems. The Hero family of loitering munitions will be available to European customers to satisfy contemporary and emerging operational requirements.
The combat-proven HERO systems will be displayed at multiple stands: Rheinmetall (F241-240 outdoor), SOFEMA (B-55 outdoor), Mistral (A638).
UVision will feature the following HERO systems at Eurosatory 2022:
Hero-120 Loitering Munition System – a mid-range, anti-tank loitering munition system which meets the complex requirements of the modern battlefield. A high-precision smart loitering munition system with a unique aerodynamic structure, the Hero-120 carries out pinpoint strikes against anti-armor, anti-material and anti-personnel targets, including tanks, vehicles, and other soft targets in populated urban areas. Its high-precision capability ensures minimal collateral damage, while its wide range of multi-purpose warheads enables the operational user to effectively engage all targets.
Hero-30 Loitering Munition System – incorporates a high level of precision attack and abort capabilities. This simple-to-operate system enables infantry and special forces to initiate operations, as well as to respond to any enemy target or threat that arises, and eliminate it with extreme accuracy. The Hero-30's advanced capabilities include striking targets with high tracking precision and lock-on, a last-second mission-abort, and re-engagement for a second attack attempt or change of target. Its versatile installment configurations (man packed, vehicle mounted or stationary) make it ideally suited to a diverse range of operational scenarios.
Hero-400 Loitering Munition System – a long-range, high-precision loitering munition system with a low acoustic, visual and thermal signature that can locate, track and strike static and moving targets with high accuracy, and minimal collateral damage. With a combination of precision-strike capabilities, extended endurance of up to two hours, and a multi-purpose warhead ‒ including concrete piercing, high explosive, fragmentation and others – the Hero-400 enables handling of different types of targets with exceptional accuracy, and long-range and versatile missions. Due to its exceptional maneuverability, the Hero-400 provides an advanced mid-air abort capability that enables automatic re-entry into loitering mode, re-engagement, or return to the recovery area using a parachute.
HERO Training and Simulation System – realistic virtual training for the HERO series of loitering munitions. With three configurations – classroom, portable and embedded in the operational control unit – UVision presents a comprehensive solution for HERO operators, enabling a higher level of training flexibility. The classroom configuration provides a robust simulation solution with a rich and versatile scenario generator for multiple trainees. The portable andembedded field simulator configurations give HERO operators continuous hands-on training, at various levels, during deployments, maintaining the highest level of operational proficiency and readiness – anytime, anywhere.