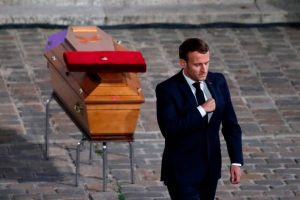 By Jai Kumar Verma
New Delhi. 07 November 2020. India has always stood against terror in any form and this time it was no different. The beheading in France shook the world and India was amongst the first nations to condemn it. " We strongly deplore the personal attacks in unacceptable language on President Emmanuel Macron in violation of the most basic standards of international discourse. We also condemn the brutal terrorist attack that took the life of a French teacher in a gruesome manner that has shocked the world. We offer our condolences to his family and the people of France. There is no justification for terrorism for any reason or under any circumstance."
Whole of Europe especially France which has the largest number of Muslims in Europe is suffering because of terrorist activities of radical Muslim refugees. Muslim refugees came to France from several countries including Maghrebi, West Africa, Middle East, Russia just to name few. According to Pew Research Center the total population of Muslims in France is about 5.7 million which is approximately 8.8. percent of total French population.
On 16 October Samuel Paty a popular middle-school teacher was beheaded by a radical Islamic terrorist in Conflans-Sainte-Honorine, a suburb of Paris. Paty was beheaded by Abdoullakh Abouyedovich Anzorov with a cleaver. Anzorov who was shot dead by police soon after he carried out this ghastly act was an 18-year old Muslim refugee who migrated to France from Russia. Paty who was taking a class on 'freedom of expression' exhibited the teenage students a caricature of prophet Muhammad. These caricatures were published in the satirical magazine 'Charlie Hebdo'. Paty asked Muslim students to leave the class if they wanted to before showing these caricatures. According to Muslims the portrayal of prophet Muhammad is blasphemous.
Several persons objected of showing these caricatures in the class. The Grande Mosque de Pantin published a video on its Facebook page while the Imam Aelhakim Sefrioui who is also member of Conseil des imams de France went with the parent and protested against the teacher in front of the school. Sefrioui denounced the school administration and wanted to meet the principal however the videos were taken out from the Facebook soon after the murder of French teacher. Brahim Chnani filed a complaint against the teacher and inspired the persons to go to the school and protest against the teacher.
Anzorov who came to France about 12 years back from Russia was originally from Muslim-majority state of Chechnya. He was living in Normandy town which is about 100 KMs away from the place of murder and he had no link with the school or the teacher. In 2014 his half sister went to Syria and joined ISIS. According to reports Anzorov was also in touch of two jihadists in Syria, he accepted about the attack on Paty and also issued an audio message in Russian language that he took revenge from Samuel Paty as he showed prophet in an insulting manner. On 16 October Anzorov waited outside the school and enquired several students about Paty and once Paty came out of school he beheaded him from a cleaver. According to eyewitnesses before slaying Paty he also yelled "Allahu Akbar".
French President Emmanuel Macron visited Paty's school and stated that it was an "Islamist terrorist attack". He also mentioned that "our compatriot was killed for teaching children freedom of speech". Jean Michel Blanquer French Education Minister also mentioned that the killing was an "attack on the French nation as a whole." Besides them several other persons also criticised and condemned the horrifying killing of the schoolteacher.
The police acted swiftly and sixteen persons including Anzorov's brother, parents and grandparents were taken into custody. Besides them Sefrioui, Brahim Chnina and four students were also taken into custody. It is believed that Chnina had issued a fatwa against the teacher while four arrested students took money and helped Anzorov in recognising the teacher. Gerald Darmanin the Interior Minister announced the closure of Grande Mosque de Pantin for six months. The defence council also decreed the deportation of 231 foreign nationals, out of these 180 are in prisons while the remaining will be arrested and deported. Darmanin also demanded the closure of two Islamic NGOs namely CCIF Collective against Islamophobia in France and Baraka City. The interior minister labelled them as "enemies" of France as both these NGOs launched a social media campaign against the teacher. Police have targeted about 51 Muslim aid organisations, carried out dozens of raids and also closed few aid groups out of which some were getting subsidies from government before.
A national memorial event was also organised in the honour of Samuel Paty at Parisian Sorbonne University and in the ceremony President Macron called him a "quiet hero" and awarded the Légion d'honneur to Paty's family.
There were sharp reactions to the beheading of the schoolteacher. The European Union issued a joint statement condemning the attack and mentioned that it is an attack on their values. Several Muslim leaders in France also denounced the attack. Charlie Hebdo caricatures were shown on regional authority buildings in Toulouse and Montpellier. The French Council of Muslim Faith (CFCM) sent a conciliatory message to be read by all Imams in France. The message condemned the assassination and also mentioned that Muslims are not maltreated in France. Rallies were taken out in several cities of France including Paris denouncing the killing of Paty. The demonstrators also criticised government for taking ineffective action against the increasing radical Islam. There were also debate in the country about rising radicalisation in the country. Institut français d'opinion publique (Ifop) conducted an opinion poll after the killing of Paty which mentioned that 87% people feel that secularist society in France is in danger while 79 feel that Islamism had waged a war against France and the French people. There was widespread reaction of the killing of Paty outside France also. Dutch public schools observed one-minute silence on November 2. In Germany commemorations were held in Berlin. The Indian Ministry of External Affairs (MEA) criticised the killing of the teacher and also condemned the "unacceptable language" of the personal attacks on President Macron. There were also demonstrations in India against France for showing the caricatures of prophet Mohammed.
There were sharp reactions in numerous Muslim countries as well as countries where Muslims are in sizable number. Few Muslim countries like Kuwait, Malaysia and Qatar boycotted French products. There were anti France demonstrations in Bangladesh and the demonstrators also burned few houses of Hindus. Countries like Egypt, Iran, Morocco, Pakistan, Turkey and others criticised France and demonstrations were also held. Few countries vowed to boycott French products. They alleged that secularists feel that they have right to make mockery of other religions as the law of the land defends them, but the mockery is not only against their religion but also against the Muslims. There are several ways to teach freedom of expression without offending any religion. Projecting of images of Prophet Mohammed and Allah (God) is strictly prohibited in the Islamic religion. Muslims also allege that they are targets of prejudice and discrimination because of their religion.
The 2015 attack on the satirical magazine 'Charlie Hebdo' or the present beheading of Samuel Paty has caused deep wounds in the psyche of French people as the attacks are against the basic principles of freedom of speech, secularism and religious tolerance. As the attackers were Muslim migrants from Chechnya, Tunisia and Pakistan the loyalty of French Muslims towards France and its secular traditions also comes into question. In fact, all Muslims whether French citizens or refugees must follow the rules of the land otherwise they would cause irreparable damage to the country of their migration as well as to their religion.
(Jai Kumar Verma is a Delhi-based strategic analyst and member of United Services Institute of India and Institute for Defence Studies and Analyses. The views in the article are solely the author's. He can be contacted at editor.adu@gmail.com)