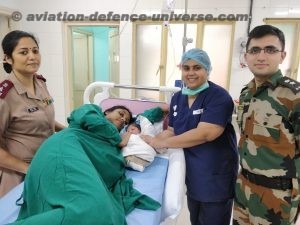 Indian NavyNew Delhi.17 August 2018. Even as the flood situation continued to remain dire all across Kerala, Southern Naval Command had deployed a total of 58 rescue and diving teams with Gemini boats in multiple locations as of 4:30 PM on 17 Aug 18, the ninth day of #OperationMadad. Eighteen more teams were sent out to various locations since early morning, to augment the rescue teams. A total of 10 and 9 diving/ rescue teams with Gemini boats were received from Eastern Naval Command and Western Naval Command respectively. More than 3000 people have been rescued till date by the SNC and continuous efforts are on to bring the flood affected people to safety and also provide them essential relief supplies such as food and water. Today 310 people have been rescued by the boats and 176 by aircraft as of 4.30 p.m. Some 500 rescued people have been accommodated at the T2 hangar inside the naval base, a make-shift relief camp, before shifting them to a relief camp at Fort Kochi. Meanwhile, the Aluva rescue camp is catering to its maximum capacity of 151 persons. As all the assets of SNC have been committed to this operation, other Commands have provided additional disaster relief items comprising 1000 raincoats, 1300 gum boots, 264 lifebuoys and 1000 life jackets. 25 more rescue teams with boats are being readied for deployment as per request from Kerala Govt.
Thirty seven teams with one Gemini boat each are deployed in Ernakulam district at various places. One team is at Pizhala island, one at Edapally and three at Perumbavur. North Paravur has the most number of teams deployed – 16, while 12 are at Aluva and four at Muvattupuzha.
In the Thrissur district, the deployment at Chalakkudy has also been augmented to nine teams, while in Pothanamthitta district, four teams are deployed at Chengannur, and one team each at Ayroor and Pollad. One team is positioned at Kottayam.
Meanwhile, five naval teams with five Gemini boats which were deployed at different places in Wayanad district on 9th August, are continuing to remain there for relief operations till the situation improves.
In addition, all air assets available at INS Garuda have been extensively utilised for winching up stranded personnel, transfer of stores, boats, relief material, etc. Air rescue has been carried out at various places of the three badly affected districts; namely, Thrissur, Ernakulam and Pathanamthitta. Various aircraft including ALH, Sea King, Chetak and MI 17 (of IAF) were able to rescue more than 176 people till now. Food was airdropped on the roof tops of various houses/ churches till now. A total of 50 air sorties amounting to 80 hours have been flown.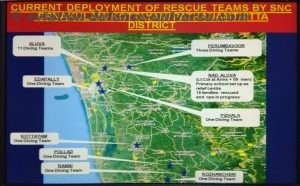 During the air sorties, it was found that Ms Sajita Jabil, a 25 year old pregnant lady, had developed complications and she was immediately evacuated from Aluva by air to INHS Sanjivani, where she later gave birth to a male child. Both baby and mother are stable at the naval hospital. A naval medical team has also been airlifted to Aluva as there is a report of collapse of a building.
A makeshift relief camp has been set up at the T2 Hangar inside the Naval Base, which has catered for 500 displaced civilians, who were provided meals and other basic necessities. The Navy Wives Welfare Association has also been keenly involved with the relief activities at the camp and have been collecting freshly prepared food, clothing, etc for distribution to these people. Subsequently, the survivors are being shifted to a relief camp set up at Fort Kochi. Meanwhile, INS Venduruthy had set up a community kitchen at Cochin University of Science and Technology (CUSAT) to cater for 3000 people. The kitchen is fully operational and has commenced providing hot meals for the affected population.