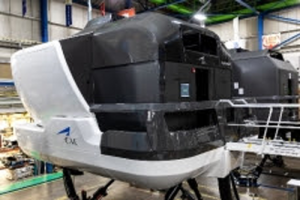 Dubai, United Arab Emirates .15 November 2021. Emirates-CAE Flight Training (ECFT), the joint venture between Emirates and CAE, announced today at the 2021 Dubai Airshow that it is expanding its pilot training capacity in Dubai. ECFT will deploy a second CAE 7000XR Series Boeing 737 MAX full-flight simulator (FFS) by the end of 2022 to support flydubai's future fleet growth.
"To meet flydubai's growth plans, we continue to elevate our customer offerings and expand our training programs," said Nick Leontidis, CAE Group President, Civil Aviation Training Solutions. "We pride ourselves in developing high-technology training solutions and in providing customers a great experience with convenient training programs available near them. As their training partner of choice, we look forward to continuing to support flydubai and other customers in the region."
"flydubai and CAE have had a successful and longstanding relationship over the past decade," said Capt. Abdullah Alriyami, Senior Vice President, Crew Training at flydubai. "The deployment of the new full-flight simulator will further support our training needs as we take delivery of more Boeing 737 MAX aircraft over the next few years. We look forward to continue to work closely with CAE and benefit from these comprehensive training solutions."
CAE offers Boeing 737 MAX training at training centres located in Toronto, Dallas, Amsterdam, Iceland, Dubai and Singapore.