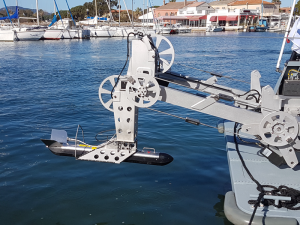 Paris. 26 May 2017. The Towed Side Scan Sonar System TOWSCA developed by ECA Group upgrades its USV Inspector with a shallow to deep water survey capability. ECA Group obtained the qualification during sea trials.of its new Towed Side Scan Sonar: TOWSCA.
Installed on the aft deck of the Unmanned Surface Vehicle (USV) INSPECTOR Mk2, the mid-size towed side scan sonar is deployed by his LARS (launch and recovery system) up to 100m depth.
This System has successfully completed the sea trials during the first quarter of 2017. It was tested in various situations (speed, depth) and complies with operations in harsh environment (sea state 3 and more).
The TOWSCA is designed to be fully remotely monitored from ground workstation through the USV radio link. It can accommodate various mid-size TSSS (Towed side scan sonar) to provide very accurate seafloor images.
The LARS includes an auto altitude mode and automatic obstacle avoidance device. Using internal sensors coupled with Ultra Short Base Line (USBL) positioning system, the Towed Side Scan Sonar is real-time 3D positioned and sonar data geolocalized and time stamped.
Fitted with TOWSCA, on the aft deck and hull sonar on its bow mast, the USV INSPECTOR Mk2 has shallow and deep water survey capability. It is a compact USV able to gather and transmit in real-time 2D or 3D images from seafloor at speed over 10kts.
Thanks to its small size, the USV INSPECTOR Mk2 can be easily deployed from existing davit and shipped by road, train and air.
In this configuration it will manage many applications such as seafloor mine detection in Mine Counter Measure (MCM) missions, wreck or debris relocation in Search and Rescue (SAR) operations.