Signed a six year In-Service Support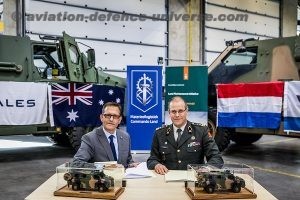 La Defense, Paris. 09 May 2018. Thales  signed a six year In-Service Support contract with the Dutch government  on April 26th , at the Van Halteren Metaal (VHM) headquarters in the Netherlands to further improve the already outstanding performance and availability of the Netherland's Bushmasters.
Bushmaster vehicles have been in service within the Netherlands Army for over 10 years, with an outstanding record including operations in the Middle East where the vehicle's superior protection, mobility and combat effectiveness were proven to be critical, as they saved many lives.
"There is a long history of trust between the Netherlands and Thales. Ten years ago we built the best tactical platform to meet the Dutch Army's' ambitions around the world. Thales continually invests and innovates in future technologies to meet the challenge of evolving battlefield threats and to maintain the Bushmaster at state of the art." Pierre Bénard, Vice-President, Vehicles and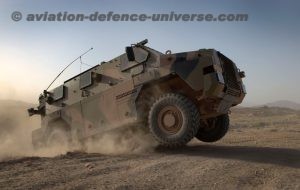 This contract combines Thales's expertise as the Original Equipment Manufacturer and VHM's established excellence in hands-on maintenance services to deliver increased availability and excellent value for money for the Netherlands Government. The innovative partnership between Thales and VHM will provide preventative maintenance and a local repair and modification capability for the Netherlands Government. Today is the culmination of a collaborative process between Thales and the Netherlands Material Logistic Command to shape the long term support contract and provide increased availability for the Bushmaster fleet.