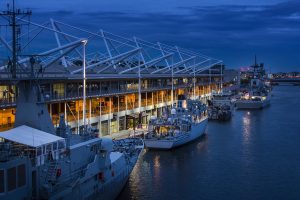 Greenwich, London. 08 June 2019. DSEI holds an unrivaled naval heritage, ranging from warship displays to showcasing the most cutting-edge maritime electronic technology. In addition to these impressive displays, the Royal Navy will use DSEI 2019 to host its Maritime Capability Conference, focusing on the opportunities and capabilities for modernisation and transformation in a fast-changing and increasingly digital world.
The conference will examine the Royal Navy's dedication to innovation and adaptation in training a cutting-edge Navy of the future. Bringing together the brightest minds in the maritime sector, including the heads of navies from around the world, its aim is to explore the opportunities and potential challenges posed by Artificial Intelligence and advances in autonomy.
The Royal Navy has emphasised its commitment to modernisation. This includes harnessing the opportunities presented by technological advances in autonomy, computing and AI, to enable ongoing operational advantage.
The expanding capabilities of autonomy are being embraced, alongside a continued commitment to manning and training the future Navy. Every year since 2016, Exercise Information Warrior has seen the Royal Navy collaborate with industry partners to develop its Information Warfare programme, reinforcing high-tech Information Warfare as a key naval focus.
While deterrence and the ability to engage with adversaries remain at the heart of the Royal Navy, it is also developing in terms of mass, reach and effectiveness through advances in autonomy. Agility and flexibility have also been enhanced with the power of Carrier Strike, ensuring the Royal Navy remains dominant in maritime environments.
"To remain credible and maintain our competitive edge we must continue to embrace new technology, both in the future platforms we are building and by future-proofing the platforms we already have in service" said Admiral Sir Philip Jones, First Sea Lord and Chief of Naval Staff.
"The Royal Navy has a strong pedigree in this regard; Admiral Jackie Fisher's reforms at the start of the 20th century transitioned the Royal Navy from sail to steam, started building ships with iron and steel instead of wood and became the first to do away with cannon lining the sides of our ships, instead introducing rifled guns in turrets, made accurate by the invention of the first fire control computers. We became pioneers in the worlds of submarine warfare and maritime aviation. And now, as we approach the era of machine speed warfare, we're leading the way again, accelerating the introduction of novel and disruptive technologies such as open architecture command systems and Artificial Intelligence as we work our way towards a fully digitized Royal Navy. We aim to have an unmanned MCM capability in UK waters by 2020, with a view to taking the man out of the minefield all together, these technological advances offer a glimpse of the exciting future that awaits us. But the important thing is how we empower our people to come up with new ideas and to take risks, potentially failing during development, so we never fail on ops. I see DSEI as a hugely beneficial opportunity for us all to meet with partners from industry, academia, and with our counterparts from overseas and to share and learn from each other in this endeavour."
The conference will explore topical themes including:
"How to digitise the Royal Navy and ensure Information advantage is at the heart of the future naval approach"
"Autonomy – Exploring the opportunities to increase mass, reach and lethality of the Royal Navy"
"Machine Speed Warfare – Harnessing new, disruptive technologies to gain war-winning advantage"
"Manning and training the future increasingly 'autonomous navy'".
The conference will be complimented by a naval seminar programme within the exhibition, where military and industry subject matter experts will deliver presentations on topics including undersea defence technology, electronic warfare transformation, maritime security and training. There will be industry leading experts from Chess Dynamics, Leidos, Seatronics and TP Group discussing these topics, alongside former and serving personnel from the Royal Navy.
The Maritime Capability Conference is sponsored by Thales, which recently opened a new centre of excellence in maritime autonomy in Plymouth allowing highly trained personnel to test and deliver autonomous trials with rapid sea access.
UK Thales CEO Victor Chavez said:
'With a digital revolution underway in all the markets that Thales serves, Thales is investing heavily in the underlying technologies of connectivity, Big Data, artificial intelligence and cyber security to help our customers protect their citizens and make the world safer. With this in mind, we are delighted to sponsor the Maritime Capability Conference at DSEI in partnership with the Royal Navy. The Maritime Capability Conference is a platform for those across industry to debate, discuss and collaborate on harnessing the power and opportunities of a digital future, in order to enable our Armed Forces and stay one step ahead in a rapidly changing world.'
The DSEI Maritime Capability Conference takes place alongside conferences led by the British Army and Royal Air Force on Monday 09 September at ExCeL London. A drinks reception, offering an excellent networking opportunity for delegates and speakers, will take place after all three conferences.
For more information and to register please visit: www.DSEI.co.uk