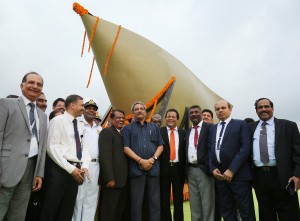 Quepem, Goa. 29March 2016.  A huge bow mounted Sonar Dome designed & developed by Research & Development Establishment (Engineers) [R&DE(E)], a DRDO laboratory based in Pune was flagged off by Defence Minister  Manohar Parrikar.  Secretary Department of Defence (R&D) & DG DRDO Dr. S. Christopher was present . The ceremony was held at the Defexpo  in Goa on March 29, 2016. The Sonar dome will be delivered to Mazgaon Docks, Mumbai.
The Sonar Dome, a first of its kind in the country has been manufactured by a composites manufacturing company in India. This is a huge contribution by Indian Industry to the 'Make in India' movement. Only a couple of companies worldwide have the capability of realising such structures.
All anti-submarine warfare (ASW) ships have a sonar array fitted to the ship structure below the waterline.  The sonar functions as the ship's underwater eyes and ears.  The sonar dome is a structure fitted over the sonar array so that its electronics and sensors are not exposed to surrounding hostile environment.  The sonar dome has to be structurally sound as well as acoustically transparent.
R&DE(E), DRDO, Pune has successfully developed process technologies to realise large composite structures that can be used in Naval ships & submarines. The Laboratory has also developed technologies related Integral Composite Armour that can be used in Combat Vehicles.  The Laboratory is also significantly contributing in development of aerospace structures. NPOL, a DRDO Laboratory at Kochi played a significant role in development of the Sonar Dome.
DRDO is also fielding Live Demonstration of number of Systems with Cutting Edge Technologies for the first time in Defexpo.