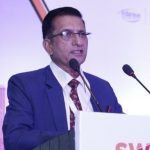 By Jai Kumar Verma
New Delhi. 09 November 2023. It is more than a month since the Hamas attacked Israel on 7th October.  Palestinian Islamist group Hamas attack was not only a well-planned invasion, but it was a brutal triumph on Israel. Hamas successfully planned minute details of the assault clandestinely and the intelligence agencies of Israel failed at all levels. Hamas launched the brutal attack by land, sea, and air on about 22 places. The locations included towns and areas which are within 24 kilometres from Gaza. Hamas terrorists killed more than 800 Israeli citizens.
The Israeli intelligence agencies were caught napping as their sources and contacts failed to alert their handlers about the planning and arrangements of this massive assault. Mossad which has an annual budget of $3 billion and has 7,000 staff excluding a large fleet of agents and sources, is the second biggest intelligence agency after Central Intelligence Agency (CIA) in the West. The technical intelligence which contains large number of electronic sensors, surveillance system, etc. could not give signals about the preparation as well as about the attack. The security agencies are aghast that the Hamas made such a massive military buildup, planned the strategy for months with the world oblivious to its intentions.
Once the war gets over a comprehensive enquiry should be made to know the causes of the failure. The failure is on all the three fronts of collection of information, converting it into intelligence and sharing it with the consumers. In this way army's intelligence branch as well as Shin Bet the internal security agency failed in their basic task. The Israeli security forces were so confident that just one week before the attack they issued a statement that Hamas was not interested in open conflict.
The 7 October attack rekindled the memories of October 1973 when 50 years back, enemies of Israel unleashed a surprise attack on Yom Kippur which is the holiest day in Judaism. The moot question is that Hamas conducted the biggest assault in 50 years in which it used bulldozers, gliders, motorbikes against the most powerful army of the Middle East and Israeli intelligence agencies failed to report about the preparation. Hamas fired more than 3,000 rockets and about 1,000 armed Hamas fighters entered Israel from Gaza and spread horror by breaking the wall killing civilians and military. With no prior warning from Israeli or American intelligence about this well-planned attack, Israeli security forces response was slow.  Hamas planned the things in such a way that Iron Dome missile defense systems of Israel, which are old and tested became useless as Hamas flooded them with a storm of deadly missiles in the beginning of the assault.
It is the failure of Israeli intelligence agencies that they could not get information about storing of such large number of rockets by the terrorist outfit and the fact that Hamas was aware of the lacuna in Iron Drone missile defence system. Hamas was also aware about the interception of their mobiles and computers hence this time it appears that they have not used technology and only discussed their plans through personal meetings. The top-ranking Hamas operatives in Gaza communicated through hardwired phones placed in tunnels in Gaza.
Hamas launched a well-orchestrated deception campaign and gave the impression that it is focusing more on economy. Hence Israel gave economic incentives to Hamas. Hamas were training its people, but it was projected as posturing. The terror outfit also built a mock Israeli settlement in Gaza and trained their fighters to attack it. It prepared videos of these military actions and showed it to their fighters repeatedly. It is not possible that Israelis did not notice it, but they were convinced that Hamas is not interested in military adventure. Hamas gave an erroneous impression that it is war weary and could not fight. The possibility that Hamas used double agents who fed wrong information to Israeli intelligence organisations cannot be ruled out.
Israel made the biggest mistake not only strategically but also tactically. It issued 15,000 work permits to residents of Gaza who enter Israel on a daily basis for work. The idea was that Hamas would not resort to terrorist activities as 15,000 people got employment. The payment in Israel for construction & agriculture workers was ten times more than the payment in Gaza. Israelis were also happy that they were getting cheap labour and were thinking that relations with Gaza residents are becoming normal. But the idea was over optimistic as Hamas a terrorist outfit, supported by Iran, is not concerned about the wellbeing of residents of Gaza. Security officials of Iran taught operational security to Hamas and chalked out details of the operation of 7 October.
Hamas as part of their deception had not conducted any military operation in Israel for about two years. Although the other terrorist outfit namely Islamic Jihad did few terrorist attacks. The restraint generated some dissension in Hamas fighters as they thought that now Hamas is more interested in economic prosperity, while moderate Israelis claimed that they are successfully winning the residents of Gaza. The Palestinian also criticised that Hamas leaders are settled in Arab countries and living a luxurious life while Gazans were living in poverty.
Hamas kept the plan of assault a closely guarded secret and trained more than 1000 fighters for the attack, but the fighters were unaware about the details of the plan. Hamas was aware that Israel had high level sources in Hamas hence the details and timings of attack were kept a closely guarded secret.
The assault was planned in four stages. In first stage more than 3,000 rockets were fired from Gaza and during that time large number of Hamas fighters entered Israel through hang gliders, motorised paragliders etc. Once Hamas fighters secured terrain the chosen commandos entered Israel after breaking the electronic and cement wall constructed by Israel to block intrusion. The Hamas fighters used bulldozers and when breaches widened, they entered Israel through two and four wheelers. An elite commando unit of Hamas attacked Israeli army's southern Gaza headquarters and jammed its communication hence the army personnel could not contact their commanders. Lastly the attackers captured and moved the hostages to safe areas in Gaza.
The other mistake was that as Gaza was under Israeli blockade more emphasis was on the occupied West Bank and on Palestinian terrorist outfits as there were regular gunfights between Israeli forces and Palestinian terrorists. Some Israeli security forces were moved to the West Bank from Gaza due to this threat perception. Israel instead of thinking about Hamas was more concerned about normalising its relations with Saudi Arabia.
The intelligence agencies of Israel and US could not analyse that Iran wants to sabotage the peace deal between Riyadh and Tel Aviv.  Hamas aggression and its merciless killing of Israelis and then Israeli reaction in which more Gaza residents were killed have raised sentiments in Islamic world. The agreement between Saudi Arbia and Israel is shelved hence the basic object of Iran is fulfilled. Now Iran though a Shia country is trying to unite Muslims irrespective of Shia and Sunni differences and wants to become the leader of Islamic world.
Egyptian intelligence agency claimed that they have warned Israel about the "something big" by Hamas. Egyptians also claimed that their minister called Prime Minister Netanyahu and informed about it. The analysts feel that Israel committed three mistakes. Firstly, Israel was over confident about its military superiority and mistakenly thought that they can crush any type of Hamas attack. Hence a complacency developed that as Hamas cannot win it would not attack. IDF also thought that Hamas lacks capability of any major attack on Israel. IDF miscalculated the intentions of Hamas. Israel thought that Hamas would not attack Israel as it is giving economic incentives to them by issuing permits to work in Israel. IDF wrongly thought that Hamas have softened their animosity towards Israel and may agree to two nations theory. However, Hamas softening relations with Israel was a tactical move and not a strategic action. Hamas and its mentor Iran have planned that Israel would retaliate to the 7 October assault with full force with a possible creation of more ill-will towards itself and generation of sympathy towards the Palestinian cause which is sidelined because of Abraham Accords.
Intelligence failure comes because of over confidence and not because of lack of information. Here both USA and Israel were aware about the hatred of Hamas but ignored it. It is not feasible that Hamas made such massive preparation and IDF, US intelligence and Five Eyes intelligence agencies remained unaware about it. Only thing is that due to their pre-conceived ideas they refused to convert the information into intelligence and not used it. Netanyahu was so busy in saving himself that he failed to save the country.
In nutshell not only the intelligence agencies of Israel but intelligence agencies of other countries should also learn a lesson from the Hamas attack. Intelligence is essential for countering terrorist attack and there should be no complacency and pre-conceived ideas. Intelligence organisations should think strategically about when and why of possible attacks by terror outfits and the 'will not' should be avoided like the plague. The war between Hamas & Israel has taught military planners important strategic lessons world over.
(Jai Kumar Verma is a Delhi-based strategic analyst and member of United Services Institute of India and The Manohar Parrikar Institute for Defence Studies and Analyses,. The views in the article are solely the author's. He can be contacted at editor.adu@gmail.com)