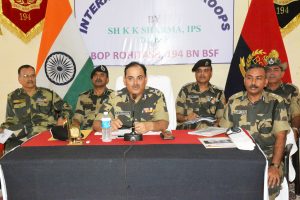 By our special correspondent
 New Delhi. 23 April, 2016. Border Security Force on camel back patrols the barbed wires in Thar desert where India & Pakistan share the international border in Jaisalmer district in Rajasthan. Such patroling & checking takes place in specified time intervals as to ensure no tresspassing, infiltratation & exfiltrations occur between the two countries at the international border.
Director General Border Security Force  K K Sharma on second day of his 02 days visit of Rajasthan Frontier visited forward BOPs near the international boundary with Pakistan  and  reviewed the border management and security scenario.  DG during his visit on border inaugurated Composite border out post at Rohitash, Jaisalmer. The newly constructed out post is equipped with latest facilities which will help to bring rest and relief of troops performing duties in extreme hot climate. This will improve operational efficiency of troops.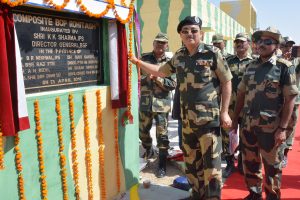 Issues related to operational and welfare were discussed in detail with senior officers of Rajasthan Frontier. DG also took Sanik  Sammelan on border and applauded the Seema Praharis for high level of devotion, sincerity towards duties in the service of nation.
DG emphasized on the use of technology for effective domination and border management. He informed that one such trail is undergoing in the patch of 5 kms on Punjab and Jammu border. He also added that all efforts be made to provide accommodation to newly married Jawans on border.
The Border Security Force (BSF) has tightened a vigil in sensitive areas of Rajasthan bordering Pakistan . Border areas of  Jaisalmer, Bikaner and Barmer districts have been identified as being vulnerable to infiltration, according to the intelligence reports.