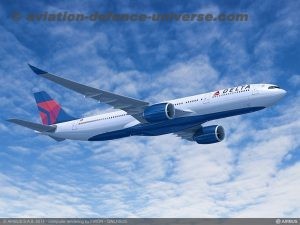 Toulouse. 18 November 2018 .  Delta Air Lines has ordered 10 additional Airbus A330-900 widebody aircraft, expanding their A330neo order book from 25 to 35 aircraft. This latest order supports Delta's international growth strategy in the near to medium term.
Simultaneously, Delta and Airbus have agreed to defer 10 previously ordered A350 XWBs to 2025-26 in order to accommodate the airline's long-term growth strategy. Delta currently operates 11 A350-900 aircraft and expects a further four in 2019-2020. Delta's A330 fleet stands today 42 widebody aircraft.
"The A330-900 is going to be an important addition to Delta's fleet," said Delta Chief Executive Officer Ed Bastian. "Airbus has infused this next generation of the successful A330 family with new technology and features providing advanced levels of comfort for our passengers and significant operating cost reductions that will make our airline stronger in the decades to come."
"Operational efficiency and an exceptional passenger experience are core to Delta's successful recipe, and it speaks volumes that they have chosen the A330-900," said Christian Scherer, Airbus Chief Commercial Officer. "Delta has been endorsing the Airbus wide-body family from the outset by committing to both the A330 and the A350. We are listening to our customers and proud to be in the position to flexibly respond to their fleet requirements for more A330s and equally appreciate the ongoing commitment for more A350s as part of their long-term growth strategy."
Scherer added: "This reconfirmed endorsement by one of the world's largest and most respected airlines validates the economic credentials of our versatile Airbus widebody family in the most advanced and competitive environments."
Building on the proven success of its popular twin-aisle, twin-engine, widebody A330 Family, Airbus launched the A330neo programme – comprising the A330-800 and A330-900 versions – in July 2014. The A330neo brings significant efficiency improvements while also introducing the Airspace by Airbus cabin, which offers the newest and most advanced in-flight experience with extra personal space and state-of-the-art ambient lighting.
Incorporating the latest-generation Rolls-Royce Trent 7000 engines, along with aerodynamic enhancements – including new extended composite wingtips which provide 3.7 metres of increased overall span – as well as increased lift and reduced drag, the A330neo is a more efficient aircraft which will generate savings through reduced fuel burn.
The longer-fuselage A330-900 version can accommodate 287 seats in a typical three-class layout or up to 440 for high-density configurations and can provide a range of 7,200 nautical miles.