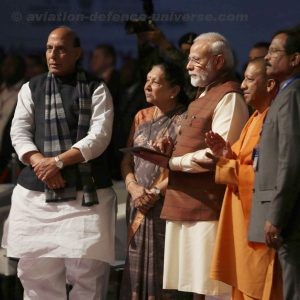 India's ambition to develop a defence industrial base is neither a threat nor directed against any other country.
India has been a trustworthy partner of world peace.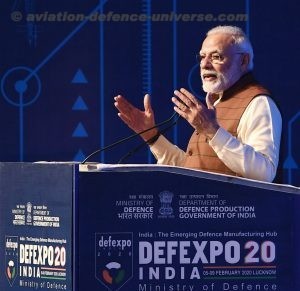 Lucknow. 05 February 2020. Defence manufacturing has an infinite possibilities in India. India has talent, technology, innovation, infrastructure, favourable policy, protection of foreign investment. India also has demand, democracy and decisiveness, was the mantra at Defexpo 2020.
Amidst much anticipation the Defexpo 2020 started informally today to get formally inaugurated by Prime Minister Narendra Modi who announced a target of over $5Billion in the next five years for defence exports and stated that India's ambition to develop a defence industrial base is neither a threat nor directed against any other country. "India has been a trustworthy partner of world peace. During world wars, lakhs of jawans laid don their lives. Even today, more than six thousands Indian personnel are part of UN Peace-keeping Forces," he reiterated. He said that the creation of the post of Chief of Defence Staff and the Department of Military Affairs will boost the overall defence production which is the aim of the nation and India is not only a market but also an opportunity .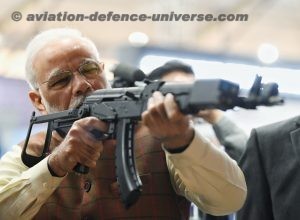 "We are hosting the biggest ever Defence Expo India this year. This depicts the confidence of the world in our Defence and Aerospace industry. Local materials for global requirement. It's encouraging to see that the world is looking towards India for their defence requirements," Defence Secretary Ajay Kumar said at Defence Expo 2020 in Lucknow.
Prime Minister also stated that, "this is a very big opportunity for the people as well as the youth of India. Make in India will not only increase India's security but new opportunities for employment in defence sector will also be created. It will also boost Defence Exports in future." He also added , " the sub theme of DefExpo 'Digital Transformation of Defence' reflects the worries and challenges of tomorrow. As life is becoming technology driven, the security concerns and challenges are becoming increasingly serious. It is not only important for present but for our future as well. Globally, the defence forces are evolving newer technologies. India is also keeping pace with the world. Many prototypes are also being developed. Our goal is to develop at least 25 products of Artificial intelligence in the defence sector during the next five years."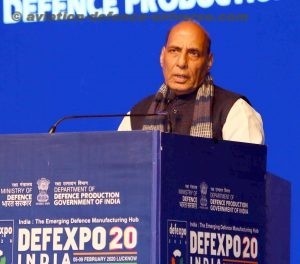 "Prime Minister said that the expo in Lucknow is also important for another reason. Former Prime Minister of India Atal Bihari Vajpayee, dreamt of indigenisingdefence manufacturing and had taken many steps for it. Following his vision, we accelerated the manufacturing of many defence products. We have issued 217 defence licenses in 2014 itself. The number has grown to 460 in the last five years. India is manufacturing everything from Artillery guns, Aircraft carrier to Frigate Submarines today. India's share in global Defence Exports has also increased. In the last two years India has exported about 17 thousand crores of defence products. Now our aim is to increase Defence Exports to five billion dollars", he said.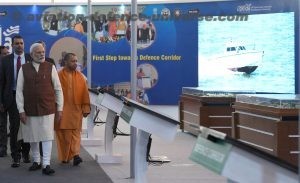 "Defence manufacturing should not be limited to only government institutions, but it should also have equal participation and partnership with the private sector. Our goal is to bring the number of MSMEs in the field of defence production beyond 15 thousand in the next 5 years. In order to expand the Idea of I-DEX, it is targeted to start 200 new Defence Start-Ups to scale-up it. The effort is to develop at least 50 new technologies and products. I also suggest that the major industry bodies of the country should create a common platform for defence manufacturing so that they can take advantage of both the development and production of technology in the field of defence", Prime Minister added.", he said.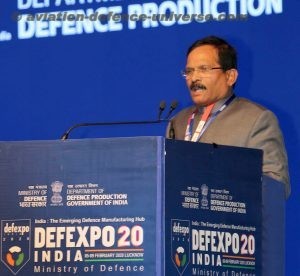 MOS(Defence)Shripad Yesso Naik in his welcome address reiterated that India's development of military might and Make in India plans stand at top priority positions and this government's aim is to achieve both.
Prime Minister Narendra Modi was welcomed by Uttar Pradesh Chief Minister Yogi Adityanath and Union Minister for Defence Rajnath Singh, at the 'DefExpo 2020'.
Defence Minister Rajnath Singh reiterated ,"our target is to make India a $5 trillion dollar economy by 2024 and the defence sector will play a major role in that. We are working to make India a defence manufacturing hub and the Defexpo 2020 will help in that."
Uttar Pradesh Chief Minister Yogi Adityanath said his government has been encouraging defence manufacturing in the state. He said two Dornier aircraft of aerospace major Hindustan Aeronautics Ltd will be used by the state government for civil purposes on two routes. It will be for the first time that the 19-seater aircraft will be used by a state government for civilian purposes. He said his government had identified six nodes for the corridor which include Lucknow, Kanpur, Chitrakoot, Jhansi and Agra. He said they had already an aerospace and defence policy and identified large land banks to be given to companies interested in investing here. He also stressed on continuing efforts to build 11 domestic airports and the largest expressway from Meerut to Prayagraj to enhance connectivity.
Several modern, advanced Defence equipment are being manufactured in India. These advanced Defence equipment are aircraft carrier, artillery guns, submarines, frigates, combat helicopters, and light combat aircrafts, said Modi. Past experiences , present needs and future challenges are the beacons which guide defence manufacturing in India. Our policy and strategy which was focused on imports is now export oriented with stress on defence R&D and with partnership as the motto, he concluded.