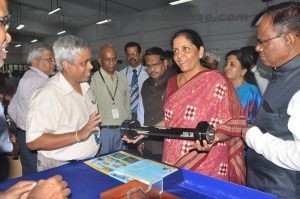 New Delhi. 19 January 2018. The suspense is finally over. From Goa to Greater NOIDA to Bangalore to Chennai- the decision has finally been taken. Chennai it will be.
Defexpo 2018 as it is popularly known which is technically  the 10th Land, Naval & Internal Homeland Security Systems Exhibition-2018 will be held at Arulmigu Nithyakalyana Perumal Temple Thiruvidanthai,Thiruvidanthal, Thiruporur Taluk, Kanchipuram, Tamil Nadu, India from 11-14 April 2018.
The countdown has begun. Flights are being booked, hotels are also being booked amidst disappointment as most of the big  hotels are already sold out in  the first 24 hours of the announcement. Government , media and industry are all scrabbling to get their administration fit for the four days event.
 It will be for the first time that the state of 
Tamil Nadu will host a defence exhibition of this magnitude. "The event will attract visitors from over 80 countries and will be the biggest to date. The Tamil Nadu Government has allotted land for the purpose, " said
Defence Minister Nirmala Sitharaman
while inaugurating the two-day Defence-Industry Development Meet at Chennai.
Tamil Nadu Chief Minister Edappadi K Palaniswami said that the Tamil Nadu was in the process of  putting together an aerospace and defence policy to create 'high-end' employment opportunities for around one lakh persons.