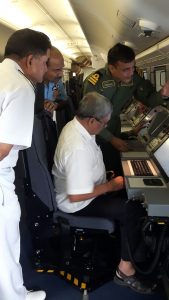 Arakkonam , Tamil Nadu. 23 JULY 2016.It has been more than  a day and a half and the missing aircraft of the Indian Air Force still a mystery. Hopes are fading and remnants are awaited. A major search and rescue operation launched with the synergies of the Indian Navy, Indian Coast Guard, Indian Air Force and state governments of Tamil Nadu and Goa, is on but the monsoon weather is a great deterrent.
Defence Minister Manohar Parrikar, accompanied by Air Chief Marshal Arup Raha, Chief of the Air Staff, and Vice Admiral HCS Bisht, Flag Officer Commanding-in-Chief of the Eastern Naval Command, undertook a sortie from Naval Air Station Rajali at Arakkonam onboard an Indian Naval P-8I Maritime Reconnaissance aircraft for reviewing the Search and Rescue (SAR) operations for the missing AN-32 aircraft of the IAF. During the sortie that lasted nearly two hours, he witnessed coordinated efforts involving ships and aircraft, including helicopter operations from the Navy's LPD INS Jalashwa.
He directed that maximum resources be pressed into service so as to undertake effective SAR. He was briefed about the challenges of undertaking SAR under monsoon conditions with heavy rain, cloud cover, rough sea condition and most importantly depths of over 3500 metres in the area. He was also briefed about future plans involving additional ships and a submarine that were heading for the area to join in the SAR operations.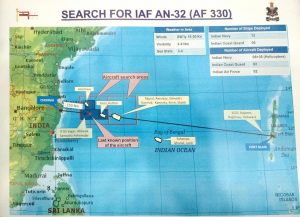 Apart from aspects related to the optimum deployment of resources for SAR operations, the ministers enquired about the families of missing Service and civilian personnel. He was assured that constant liaison was being maintained with all families, and that all possible help was being rendered to them.
IAF has deployed two C-130 aircraft equipped with Electro-optical and Infra-Red sensors. Indian Navy P8i aircraft equipped with Synthetic Aperture Radar along with Dorniers are also taking part in this operation. Indian Navy has deployed 13 ships in the search area and is being assisted by six ships of Indian Coast Guard and merchant vessels in the area. Indian Navy has also deployed one submarine for the task. The Maritime Rescue and Coordination Center at Chennai has been coordinating round the clock surveillance towards search effort along with Southern Air Command of IAF, Indian Navy and Indian Coast Guard.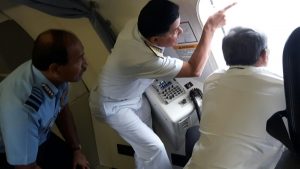 It may be recalled, that on 22 July 16 an An-32 aircraft belonging to 33 Squadron of IAF which is located at Sulur, Coimbatore was on a scheduled courier sortie from Tambaram (Chennai) to Port Blair. The aircraft departed Tambaram at 0830 hrs with 06 crew members and 23 passengers. The aircraft was scheduled to arrive at Port Blair at 1145 hrs. The aircraft however did not make any contact with Air Traffic Control of Port Blair and an overdue action was initiated. The last Radar contact marked by Chennai Air Traffic Radar was East of Chennai at 151 NM. The aircraft was flying at 23000 ft.