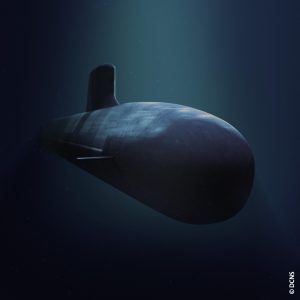 Paris. 17 October 2016. DCNS is showcasing  digital and high technology naval solutions offer to address the new generation of operators in the coming years. On the occasion of the Euronaval, DCNS presents its latest innovative solutions and available as of now on the ships and submarines offered to navies.
This new concept-ship is a submarine tailored to the needs of Generation Z. On board, 3.0 technologies, better power management, excellent operational performance in an unequal mastered digital environment. An emphasis on the system upgradeability allows constant
improvement.
The new 4,000t frigate by DCNS
The new innovative and digital frigate imagined by DCNS benefits from the French Navy's feedbacks and the FREMM frigate developments. She gets high-performances meeting the requirements of the French customer. Meanwhile, she will fit the needs of international Navies clients.
FC2G AIP – Fuel Cell: Second-generation Air-Independent Propulsion
DCNS has developed the 2nd generation AIP system using fuel-cell technology. FC2G AIP provides the best possible dive autonomy in total safety and easy support.
The digital systems on DCNS's future combat vessels will be protected by design. DCNS, as project management leader and integrator of the armed vessel, integrates cybersecurity over the entire lifecycle of its products and services, which are designed to be cyber-resilient.
Naval integration of drones and ship borne data centres
As a naval systems integrator, DCNS has developed a new naval-integration system for drones on board its vessels to extend intervention capacities by ensuring a better interface with the platform. Furthermore, the Group has developed a new architecture for the management of data-system infrastructures aboard, called Access, to facilitate system upgradeability and protection. As for In-Service Support, DCNS has been developing "imaintenance", a predictive maintenance to provide advanced support system and devices connected to the ship control management system.
Command Information centre (CIC) of the future
DCNS is integrating into the NextGen CIC solutions that simplify and make more intuitive system operation and algorithm-based decision-support systems allowing better situational analysis.
In partnership with the French Navy, DCNS has developed a Control Room for improved integration of subsystems into the combat system, greater automation promoting high added value tasks and greater simplification with more intuitive MMIs.
Australian Future Submarine Program : a significant step forward with the signature of the first operational contrac. DCNS welcomes the signature of the "Design and Mobilisation Contract" focusing on program set up and coordination with the Combat System Integrator (CSI). This contract will earmark the commencement of design activities for the future submarines program ( FSP) for the Australian Navy. The Australian corner on DCNS booth will showcase the Group's offer and activity dedicated to the Australian Navy for the next 50 years.