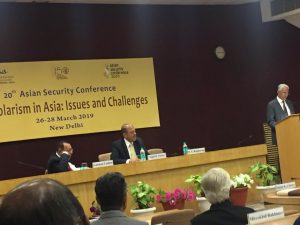 By Cmde. Ranjit B Rai
New Delhi. 27 March 2019. The Day 2 at the Asian Security Conference started with DG IDSA Ambassador Sujan R Chinoy summarising that Asia has moved economically but there is no Security Architecture in Indo Pacific and hence is jostling for power.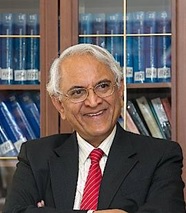 The special address by Ambassador P.S. Raghavan, Chairman, National Security Advisory Board (NSAB), India was the highlight of the first session where he spoke of External Dimensions of India's National Security Challenges. He spoke of Pakistan and that Balakot was an extension of Pakistan terror and discussed how respected we are in Afghanistan and there are pro and cons which precludes India's discussion with Taliban. He added that India is cooperating with nations on Intelligence and hence got good pictures and coordinates of JEM Balakot for Spice navigator vehicle to drop bombs on the JEM camp. He also said that we must get China into a web of cooperation.
Raghavan finally stated that defence manufacturing has not kept pace and that India imports 58 percent arms from Russia and no alternate has been developed. This is a serious issue and India is now No 2 importer after Saudi Arabia.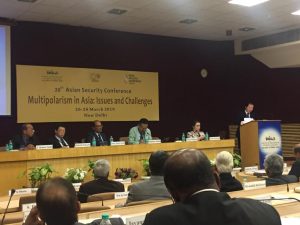 The session on Emerging Indo-Pacific Order chaired by Vice Admiral Shekhar Sinha came out with an interesting solution that the last resort is TIT for TAT and no rise and fall of a Power has been peaceful.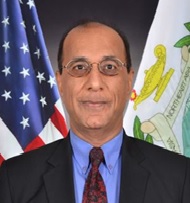 Prof. J Mohan Malik from Asia-Pacific Centre for Security Studies, Honolulu, USA stressed that new strategic balances will emerge as partnerships among states shift. Faced with an aggressive China, Asia's major maritime powers—Japan, Australia and India—have come together to work in synchronized manner with the United States. They enjoy the support of middle powers—to varying degrees—to defend a rules-based order that does not advantage powerful nations at the expense of weak states.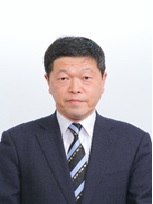 The next speaker Prof. Hideshi Tokuchi, Senior Fellow, National Graduate Institute of Policy Studies (GRIPS), Tokyo, Japan elaborated that the Free and Open Indo-Pacific (FOIP) is not an institution but a strategic concept, one that is only just emerging. He also questioned the significance of Quad in operationalizing the vision of FOIP. Could the minilateral framework of Quad have a possibility to become a promising foundation of a wider multilateral framework (a Quad-plus?) to make the order robust and stable?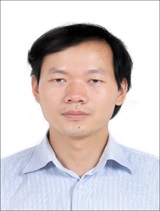 Dr. Zeng Xiangyu, Associate Professor, Sichuan University, China while analysing the situation said that the recent resurfacing of the Indo-Pacific concept and the Quad has led to a great interest and discussion but the 'Indo-Pacific' appears to be different from the decades-old 'Asia-Pacific' as it shifts/expands the strategic focus southward and westward from Eastern Asian littorals to the Pacific to littoral region covering West Pacific and Indian Ocean. However, it might be more pragmatic to regard the relations between the two as that of predecessor and successor rather than between two concepts un-related to each other. However, Indo-Pacific as a policy is vague and fragmented. As a strategy, the Indo-Pacific is even less relevant as some available analysis might suffer from over-conceptualization and over-systemization.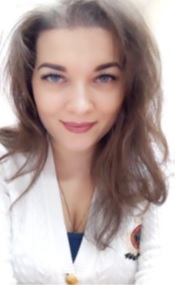 Indo-Pacific interestingly also had a BRICS relationship which was very finely put forth by Ms. Valeriia Gorbacheva, GR-Director, National Committee on BRICS Research, Moscow, Russia. "It is important to formulate the theoretical foundations of international relations in Asian politics in the modern era and the participation of external strategic entities of the Asia-Pacific region; to present a reasoned criticism of Euro-oriented IR-theories. Up to this day, the issue of geopolitical configurations in Asia is still not clear and the definitions of the area in question is not fully agreed on. Especially due to the recent increased spread of the different new concepts what is implied by Asia in geopolitics is far from clear," she said.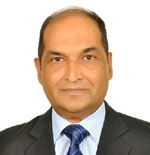 Commodore Abhay Kumar Singh, Research Fellow, Institute for Defence Studies and Analyses (IDSA), New Delhi, India said that while India's 'Look East Policy' had led to enhancement of her economic and strategic engagements beyond the Indian Ocean, there exists perceptible hesitation in embracing the 'Indo-Pacific' terminology in India's policy articulation. The sources of this ambivalence can be discerned through wider strategic discourse in India around the geopolitical construct of the Indo-Pacific. Proponents argue that the embracement of the 'Indo-Pacific' is a logical extension of India's 'Look East Policy'. Sceptics, on the other hand, caution against India's strategic overextension on peripheral regional security issues, identifying too closely with the United States, and receiving potential backlash from China.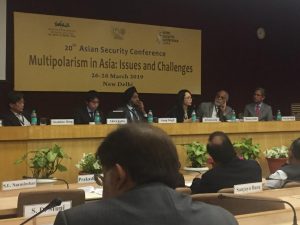 In another session on managing contests and security concerns in Asia Vice chaired by Admiral (Retd.) Anup Singh, Director (Strategic Studies),Society for Indian Ocean Studies, New Delhi concluded that Uni Polarity to Bi Polaroty has got nations looking at Multi Lateralism and Networks like PM Narendra Modi follows.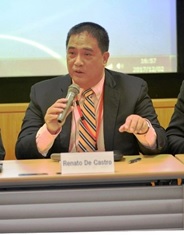 Prof. Renato Cruz De Castro, De La Salle University, Manila, Philippines stated that Duterte Administration in Philippines is trying to uphold the regional maritime security order by pursuing an appeasement policy vis-à-vis an emergent China. "Since he became president in 2016, he had untangled his predecessor's geo-political agenda in the South China Sea dispute. Former President Benigno Aquino III pursued a balancing policy on China's maritime expansion in the South China Sea. President Duterte however, has distanced his country from the U.S by terminating joint Philippine-U.S. naval patrols in the South China Sea; limited the scope and reduced the number of interactions between the Philippine and U.S. militaries; and also threatened to unilaterally abrogate the Enhance Defense Cooperation Agreement (EDCA). However, recent developments indicate that his appeasement policy has not prevented China from altering the regional status quo and instead, has caused internal division in Philippine society, " strongly reiterated.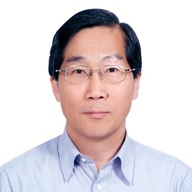 In his address Prof. Shuhfan Ding, Professor Emeritus, National Chengchi University, Taiwan analysed that Asia has become the center of gravity of the world politics. Nevertheless, the premise for the Asian Century has changed now as US-China relations, featured by the on-going trade war, have shifted from engagement to sheer competition. This competition complicates the process of the expected and desired Asian Century, because the competition can either benefit Asian countries except China, or force Asian countries to choose sides between the US and China. With regard to Taiwan-China relations, the outcome of the 2020 presidential election in Taiwan will serve as a watershed between turbulence and stability in the Taiwan Strait.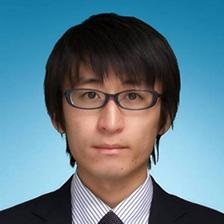 In the same session Akira Igata, Visiting Professor, Tama University, Tokyo, Japan addressed the dispute surrounding the Senkaku (Diaoyu / Diaoyutai) islands has been described as a potential flash point in the East China Sea. How did these small uninhabited islands become a prominent international issue that involve world's three largest economies? He added that the dispute is related to and has an impact on the larger changing international environment, especially its impact on the increasing strategic competition between US and China.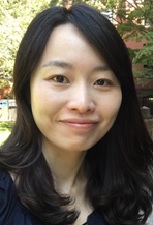 Dr. Ji Yeon-jung, Lecturer, Hankuk University of Foreign Studies, Seoul, South Korea spoke on the denuclearization on alert and reshaping security order in the Korean Peninsula. "For the last three decades, Pyongyang's nuclear weapons program has been one of the most challenging issues faced by the nuclear non-proliferation regime. The ongoing debates on denuclearizing Pyongyang appear to be determining a new pattern of political bargaining that not only calls for at-one-go denuclearization but also aims to reshape the security order in the Korean Peninsula, including the end-of-war declaration. With a more practical approach than before, the key players—the U.S., South Korea, and North Korea—have started anew to work toward a deal," she said.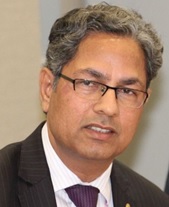 In the same session Prof. Swaran Singh, Centre for International Politics,Organisation and Disarmament, School of International Studies, Jawaharlal Nehru University, New Delhi gave suggestions on managing India's security challenges in the India Ocean Region. As the gravitation point of global geopolitics shifts from North Atlantic to the Indo-Pacific, the Indian Ocean littoral seems jump frogging to adopt new conceptions where security and development have been intermeshed and optimal strategies focus more on management rather than seeking final solutions to their complex intersubjective contestations, according to him. It is interesting to see how India is recalibrating its Indian Ocean strategies reflected in new multilateral initiatives like SAGAR, AAGC, IONS as also its new partnerships with Oman, Iran, Mauritius, the Maldives and Malaysia.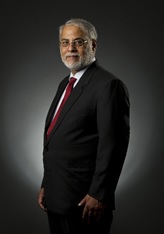 Dr. Manoj Joshi, Distinguished Fellow, Observer Research Foundation, New Delhi spoke of India and the terrorism-military nexus in South Asia. "This relates principally to Pakistan. From the outset, Pakistan has sought "effective" parity with India. We say "effective" because India is nearly four times larger in size, has a population more than six times larger and a GDP which is 9 times higher. To this end, Pakistan has used four strategies—first, it has spent a larger proportion of its national resources on defence. In the 2003-2017 period, while India's expenditure amounted to roughly 2.5 per cent of its GDP, Pakistani figures hovered half a percentage point if not more higher. In the 1988-2002 period, while India's expenditures were around 3 per cent, Pakistan's were 5.5 per cent or so. Second, Islamabad has cultivated foreign alliances. That with the US, for example, enabled it to have a force profile of sufficient strength to challenge India in 1965.,"he analysed.
"Third, Pakistan has developed nuclear weapons. Popular belief is that the Pakistani programme reacted to that of India, but there is enough evidence to show that it had autonomous indigenous drivers. Fourth, Pakistan has used and continues to use the instrumentality of terrorism to destabilize India. It is this last instrumentality that is of interest in this presentation. As can be seen, all four strategies relate to the military. It is not surprising that they are, indeed, driven by the military which has assumed the lead role in the Pakistani state," he stated.
The discussions and brainstorming continued on the Asian Security scenario.