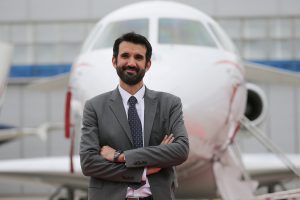 Takes over as Director, Falcon Customer Relations and Field Service
Paris. 16 December 2016. Dassault Aviation has appointed Damien Farret, Director Customer Relations and Field Service. He replaces Eloi Dufour, who was named, Director Aircraft Delivery & Pre-Owned Management. In his new position, Farret will lead the entire front line customer support organization for Europe, Middle East, Africa and India region (EMEAI).
Farret started out at Dassault Aviation in 2002 as a design engineer for flight control systems for the fighter jets. He joined Falcon Customer Service in 2005, filling a variety of coordination roles in the Falcon 900EX EASy and the Falcon 7X programs. Most recently, he served as Director of Technical Engineering for Dassault in Teterboro, New Jersey, providing engineering support to customers in Asia and the Americas.
"During his experience at Dassault Aviation, Damien has demonstrated strong leadership qualities and a consistent ability to raise the level of expectations for our customers, developing a close relationship with Falcon operators worldwide," said Jacques Chauvet, Vice President of Worldwide Falcon Customer Service. "His deep experience with the Falcon product line, and product support team, will be valuable assets in confronting the new challenges he will face .in his new job."
Damien holds a PhD in Electrical Engineering and a Masters Degree from the French engineering school Supelec.