Mumbai, 2nd June, 2022: Dynatron Services Pvt Ltd, a Crown Group Defence company, a strategic partner to Indian Defence Forces supporting the "Atmanirbhar Bharat" initiative in a drive to support indigenization of equipment for Indian Naval Ships and Submarines signed an MoU with M/s. WILO Mather and Platt Pumps Pvt. Ltd, one of the world's leading premium providers of pumps and pump systems.
Through the tie-up both Dynatron Services & WILO Pumps will work together towards:
Refurbishing/Renewal of automatic system for pump control for Ship lift / Naval Ship Repair Yard, Karwar
WILO has a well-established R&D division, Metallurgy department and a Foundry and together with DSPL will support indigenisation of pumps for Indian Naval ships and submarines
To cooperate with each other in jointly working towards providing after sales support for WILO pumps including maintenance, repairs and supply of spares, and to explore new business opportunities with Navy, Coast Guard and non-defense clients.
"We are delighted to partner with WILO Pumps in their quest to build innovation-led customised solutions to serve the Marine & Naval forces. We are excited by WILO Pumps compelling growth story and believe the company stands to benefit from the 'Aatmanirbahr Bharat' initiative in India, realizing the potential of 'Make in India," said Cmde Rakesh Anand (Retd.), Head of Marine Division, Crown Group Defence
"We are excited to partner with Crown Group which has a rich history of serving the Indian Defence forces. We have been longing to get into new markets like Defence and commercial marine and Dynatron Services has well established themselves in this business for many years & are the most reliable partner for us to join hands with. This tie-up will help us make inroads into the Defence and Marine industry." Said Mr. Sudhir Joshi, VP Sales, WILO Mather and Platt Pumps Pvt. Ltd.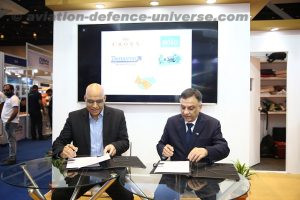 Dynatron Services Pvt Ltd is one of the only organized & fully equipped players in India that are present across all the coastal cities catering to the MRO & servicing of Indian naval ships. DSPL is engaged in the business of Refits of Defense Coast Guard and Merchant Marine vessels. They also provide aftermarket support on behalf of reputed manufacturers of gearbox, thrusters, diesel engines etc.
WILO is a 100-year-old pump manufacturer having a sizable market share in all kinds of pumps used for various shore applications. WILO specializes in higher capacity pumps and control systems used in water management and pumping arrangements by Municipal Corporations, Civic bodies, River Authorities, City Planners, Dry dock projects and also in river integration projects.
WILO has large installations of Pumps in all Naval yards. Eg Chilled water Pumps in SBC-Vizag, Sea Water Pump House, SDD & NDD in ND-V, Pumps in ND Mumbai. Fire water pumps and Pumps in shiplift pump house at NSRY Karwar.
Their new projects include pumps for SEABIRD project Phase II, Projects under execution at Rambilli and some pumps for INS -Kalinga. (A total of more than 550 heavy duty WILO pumps are fitted in the Navy facilities in old/new projects.)
"As a strategic partner to the Indian defence forces, Crown Group Defence is committed to supporting India in its indigenization & 'AatmaNirbhar Bharat' journey. This tie-up reflects our commitment to promote the indigenous industry." said Vice Adm Paras Nath (Retd.) Group President, Crown Group Defence.
Crown Group Defence with active businesses in Defence Engineering for over 40 years, providing support to Marine Engineering, Aerospace Engineering, Military Engineering and Weapon systems to the Indian Navy, Coast Guard, Land and Aviation forces has established itself as one of the most reliable players in the MRO sector for defence services.