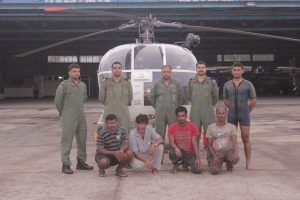 New Delhi. 13 June 2016. In a swift sea-air coordinated operation, Coast Guard helicopter rescued 07 crew members from a sinking vessel MSV Safina Al Ghelani 40 miles South of Port Blair on 12 Jun. The vessel sailed from Port Blair early morning on 11 Jun, carrying cargo for Hutbay. However, due to bad weather and rough sea, water started flooding the vessel's engine room and she started sinking at about 1030 hrs on 12 Jun.
The distress message raised by vessel was received by Coast Guard MRCC Port Blair, which immediately launched search and rescue operation. Coast Guard helicopter was launched in SAR configuration from Port Blair and two Coast Guard ships ICGS Rajshree and C-428 were sailed from Port Blair. One DSS Ship         MV Sentinel was also diverted towards the distressed vessel.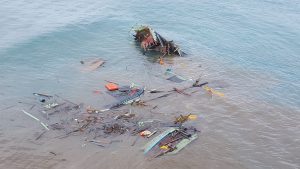 Coast Guard helicopter sighted the distressed ship near North Brother Island. The vessel was badly damaged and submerged near the Island. Despite strong winds and adverse weather, the helicopter rescued all the 07 crew from the vessel. Three of the rescued crew members were landed on Coast Guard ship C-428 and other four were brought directly to Port Blair. After necessary first-aid, all the crew members were handed over to their families at Port Blair.
These precious lives could be saved because timely distress alert was sent by the vessel using Distress Alert Transmitter (DAT). DAT is indigenously developed low cost equipment, which is capable of relaying distress alert from small vessels to Coast Guard MRCC using INSAT series satellite.
Coast Guard has been impressing upon fishermen and other mariners to carry necessary life saving equipment especially during monsoon season. A toll free help line number 1554 is also available with mariners to inform any distress situation to Indian Coast Guard for facilitating speedy search and rescue at sea.