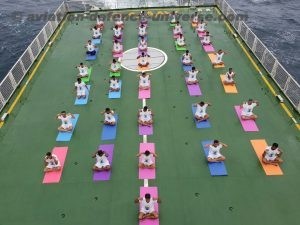 New Delhi. 22 June 2018. Indian Coast Guard celebrated International Yoga day today 21st June 18 at Coast Guard Headquarters New Delhi spearheaded by Director General Rajendra Singh ,DGICG, which was followed by two Additional Directors Generals taking charge of their respective Seaboard East and West to conduct and celebrate Yoga day in their area of responsibility.
The lush green lawns of Coast Guard Headquarters New Delhi provided the perfect platform for Yoga for the Officers, enrolled personnel and families residing in and around New Delhi. There was another Yoga camp organized at Noida for the personnel staying in Coast Guard residential area located around Noida. More than 800 officers, personnel and families attended the event.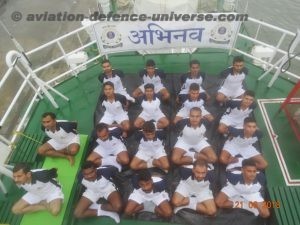 Director General has always encouraged his Officers and men to persue and excel in sports, adventure activities and physical fitness programmes.
Beside Delhi and Noida, Indian Coast Guard Regions West , East , North West, North East and Andaman & Nicobar Islands also celebrated the International Yoga day by conducting Yoga camps in their respective area of responsibilities. The Commander Western Seaboard (Mumbai) and Commander Eastern Seaboard (Vizag) also joined their Officers and men for the Yoga camp at Mumbai and Vizag respectively.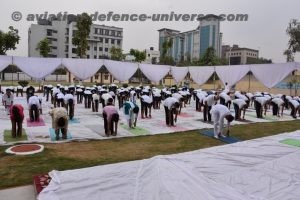 21st June has become one of the known dates across the world. Indian Coast Guard units spread across the East Coast, West coast and besides  A&N Islands celebrated Yoga day and conducted special community Interaction programmes for fishermen community. Audio/Visual display of yoga techniques to promote health benefits were also undertaken at unit level including remote location . Poster and drawing competitions were also conducted along the Coastal states of West and East Coast to motivate and encourage people towards obvious benefits of yoga.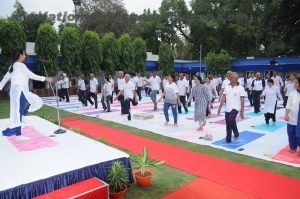 Defying the rough weather, the Coast Guard Ships at sea also performed yoga onboard and participated in the International Yoga Day 2018.