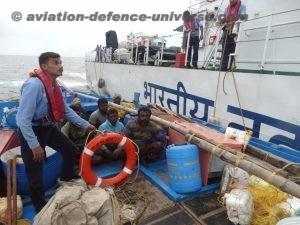 Chennai. 07 November 2017. Indian Coast Guard ship Abhiraj rescues a stranded and distressed fishing boat with seven crew onboard 40 nautical miles south west of Manappad point, Tamilnadu coast.
The distressed boat was suppose to return back to harbour on 05 nov after completion of her fishing venture but unfortunately had an engine break down and could not restart engine in spite of repeated attempt.
Department of Fisheries Thoothukudi informed the maritime rescue coordination centre, Chennai about the distress of the said boat. Subsequently the message was conveyed to the coast guard ship Abhiraj for search and rescue who was already at sea.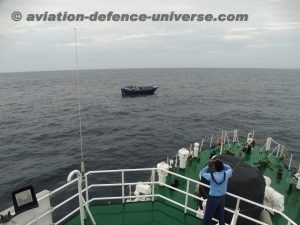 Coast guard ship located the distressed boat, provided the crew necessary medical /logistics support and towed back the boat to the nearest Port- Tuticorin safely.