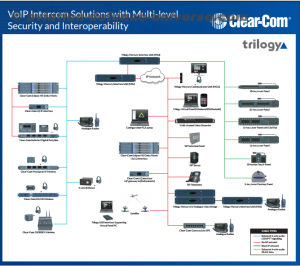 Greenwich, London. 12 September 2017.  Clear-Com in real-time communications and connectivity solutions, is presenting its highly-scalable voice communications solution with Multi-Level Security, interoperability, and full-duplex (two-way) capabilities. Clear-Com wired, wireless and IP communications solutions.
For the first time at DSEI, Clear-Com is showcasing solutions from Trilogy Communications Ltd, now a wholly owned subsidiary of Clear-Com.  Alongside Clear-Com's mission-critical high- density intercom and wireless communications systems, Trilogy's Mercury ES & DS solutions will be presented, offering five unique capabilities in one system:
PL4-certified voice communications for a true red/black system. Multiple security levels can now be traversed without compromising IP security.
Interoperability between disparate communications systems. The solution offers an array of options to seamlessly interconnect a myriad of systems via Ethernet/IP, fiber, MADI, POTS, Dante, AES67, and radio interfaces.
Scalability for any size operation. Whether in need of a small system with several users, or a sprawling intercom network with thousands of users, the solution allows for easy expandability to meet project requirements virtually of any scale.
High quality real-time, full-duplex voice communication for instant and continuous conversations. Voice exchanges occur in real time effectively and efficiently across different communications systems and geographies.
Peer-to-peer MLS communications systems for C2, C3, C4ISR that require high integrity capabilities with no signal point of failure along with legacy system interoperability
"Security, reliability and real-time communications are essential components for highly collaborative and well-coordinated operations within the Military, Aerospace, and Government agencies," said Chris Willis, Senior Sales Director, MAG EMEA & APAC. "For nearly five decades, our high integrity communications solutions have been deployed across a diverse range of vertical markets to support teams that need instant connections, real-time two-way communication, and secure talk and listen paths."
Not only are the combined solutions from Clear-Com and Trilogy utilized by the Army, Navy, Air Force, Homeland Security and many major worldwide Government contractors, but also for space and missile defence programs as well as missile test ranges and ground control stations for unmanned aircraft systems.  From command and control to training and simulation to test and evaluation applications, Clear-Com and Trilogy offer an unmatched portfolio of COTS solutions in wired, wireless and IP.