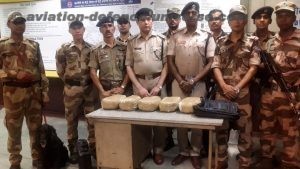 New Delhi.  13.05.2018.  On 12.05.2018 at about 1945 hrs, CISF Shift Incharge Sub-Inspector Alok Kumar along with other personnel of armed patrol team during surprise manual checking of baggages and  area checking found a bag left near gate 7 of Kashmere Gate Metro station. He asked nearby passengers but no one came forward to claim it.
Immediately matter was informed to BDDS team and  Senior Officer of CISF. The bag was checked from security point of view by CISF BDDS team and dog squad. After ascertaining that there was no suspicious/dangerous item inside the bag, it was opened. On opening the bag approximately 10 kg (ten kg) of Marijuana was recovered from the bag, The cost of the contraband is approximately Rs. 3-4 lakhs in international market.
It seems that the culprit left the bag after seeing the intensive checking and sweeping carried out by CISF armed patrol. The matter was informed to the DMRP Kashmere Gate and the recovered contraband was handed over to DMRP for further necessary action in the matter.