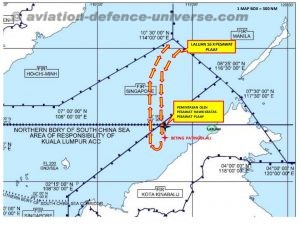 Pune, India. 02 June 2021. In a tweet, the Royal Malaysian Air Force (RMAF) said they were forced to scramble jets to conduct visual confirmation after Chinese military planes flew to within 60 nautical miles off the coast of the Sarawak state of Malaysian Borneo.
The military transport planes had come close to violating Malaysian airspace, after they were detected conducting "suspicious" activity over the South China Sea. The Chinese planes did not contact the regional air traffic controller despite being instructed several times, said the Air Force. "This incident is a serious threat to national sovereignty and flight safety due to the air traffic density over the airways," it said in a statement.
On the other hand, China's embassy in Kuala Lumpur asserted that the planes conducted routine flight training and "strictly abided by" international law without violating airspace of other countries. "China and Malaysia are friendly neighbours, and China is willing to continue bilateral friendly consultations with Malaysia to jointly maintain regional peace and stability" said a spokesperson.
Malaysia's Air Force informs that the planes, comprising of Ilyushin il-76 and Xian Y-20 strategic transporters, travelled in an "in-trail" tactical formation at altitudes of between 23,000 and 27,000 feet. RMAF said its radar station in the East Malaysian state of Sarawak detected the aircraft on Monday at 1153hrs local time and that the tactical formation spanned 60 kilometers.
As the aircraft headed in the direction of Malaysia's national airspace, the RMAF put the Hawk 208 fighter aircrafts on alert while trying to contact the Chinese aircraft. After not receiving a response, the RMAF launched the Hawks at 1333hrs to intercept and conduct visual examination.
The formation, followed by the RMAF fighters, continued on past the Luconia Breakers, coming as close to as 60 nautical miles off the Sarawak coastline before turning back. Luconia Breakers has been an area claimed by China, and China maintains a continuous rotating presence of a China Coast Guard vessel in the area. Meanwhile the Malaysian Coast Guard, the RMAF, and the Royal Malaysian Navy continuously monitor such presence.
The RMAF also released a map showing the path of the aircrafts along with pictures taken during the intercept and stated that the incident posed a threat to both national sovereignty and flight safety given the air traffic in the area.
Malaysia has had numerous such incidents by People's Liberation Army Air Force (PLAAF) and People's Liberation Army Navy (PLAN) aircrafts in the area, however, this is the first incident involving such a large number of aircraft. Most of these incidents were not publicly reported; the public statement released by the RMAF is a unique instance.