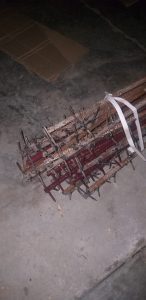 New Delhi. 18 June 2020. No one will give a pat on the back to a soldier for using this weapon in a no-war situation. China is continuing with the false rhetoric that 'Indian troops crossed the LAC for illegal activities and provoked and attacked Chinese personnel, which caused violent physical clashes between the two sides that led to casualties.'
Indian External Affairs Minister Dr. S Jaishankar tweeted, "Let us get the facts straight. All troops on border duty always carry arms, especially when leaving post. Those at Galwan on 15 June did so. Long-standing practice (as per 1996 & 2005 agreements) not to use firearms during faceoffs." Well it needs ethics to follow laid down rules as per agreements, which the Indian soldiers practiced on the night of the face off. China definitely needs a class on ethical practices.
Senior Colonel Zhang Shuili, spokesperson for the Western Theater Command of the Chinese People's Liberation Army said , "the sovereignty over the Galvan Valley area has always belonged to China." Another lie. This big boss attitude of China where it thinks it can claim Indian territory as its own needs to be given a drubbing.
The official response from Indian MEA was guarded but firm and said, " as we have conveyed earlier today External Affairs Minister and the State Councillor and Foreign Minister of China had a phone conversation on recent developments in Ladakh. Both sides have agreed that the overall situation should be handled in a responsible manner and that the understandings reached between Senior Commanders on 6th June should be implemented sincerely. Making exaggerated and untenable claims is contrary to this understanding."
In the daily press conference of the MOFA, China today, the spokesperson Zhao Lijian said, "The right and wrong of this matter is very clear. The onus is not on China."
Indian Army PRO today quashed all rumours emanating from stories appearing in the western media, that Indian soldiers are also missing, believed to have died or been captured. "It is clarified that there are no Indian Troops Missing in Action," he stated in an official communication.