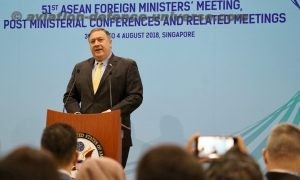 By Suresh Somu
Singapore.09 August 2018. In size, it's like a David versus Goliath comparison. But both China and Singapore know the level-headed positive roles they can play for regional security and stability, especially in advancing China-ASEAN relations.
China's Foreign Minister Wang Yi has consistently lauded Singapore's role as a coordinator for Beijing's relations with the 10-member Association of South-east Asia Nations (ASEAN).
And with Singapore, some herald as a "little red dot", now assuming the ASEAN chairmanship, ASEAN Wang notes: "We believe in and wish Singapore well in taking up these two responsibilities. So, in the process of further improving China-ASEAN relations, Singapore can play its special and positive role." Singapore's three-year term as country coordinator of ASEAN-China relations began in 2015.
Likewise his Singapore counterpart, Dr Vivian Balakrishnan said ASEAN and China enjoyed a "substantive, multi-faceted and mutually beneficial relation". He adds: "ASEAN-China relations are on a positive trajectory. As country coordinator, Singapore will continue to foster opportunities for communication and development of the relationship between our governments and our people."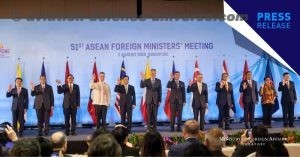 Both leaders admitted that occasionally, "we may have differences, but we have not allowed the differences to affect the overall tone of the relationship".
Dr Balakrishnan elaborates:  "How we handle the differences is more important than the differences. To be able to overcome them, to not let them become an insurmountable hurdle. But more importantly, each time we resolve something it helps build trust. It helps strengthen the relationship. So it's a good working relationship."
Singapore has been the country coordinating dialogue between ASEAN and China since 2015. And during the week of the ASEAN Foreign Ministers' Meeting in Singapore, Wang further stressed that Singapore and China will be at the forefront to further co-operate on the Belt and Road initiative.
STRONGER CO-OPERATION
And the Oriental giant China is further willing to enhance the high-level contacts and deepen cooperation with Singapore in important projects.  This agreement came as  Wang met with Singapore Prime Minister Lee on the sidelines of the ASEAN Foreign Ministers' meeting. A significant high-level bilateral ties and close partnerships between the two countries.
As China's top foreign diplomat, Wang also welcomed the progress on the Code of Conduct, calling it a major development. He adds: "We believe that without any disturbances from outside, COC negotiations will accelerate." He further drew a sharp line between "non-regional" countries and regional ones, saying there was a clear contrast in attitudes.
He also accused "non-regional countries" of trying to stir up trouble at the East Asia Summit, a meeting of ASEAN and eight non-member countries: Australia, China, India, Japan, New Zealand, Russia, South Korea and the United States. He also defended China's military build-up in the South China Sea as an act of self-defence in response to security pressures from the United States and other non-regional countries.
CODE OF CONDUCT
Dr Balakrishnan added that an agreement is in place for "key modalities" for future rounds of negotiations. This is a single text to negotiate the Code of Conduct in the South China Sea, a much of thorny issue that has been very well handled.  He elaborated the single draft negotiating text will be the basis for future Code of Conduct (COC) negotiations and living document. This means it will be edited and updated continually.
US Secretary of State Mike Pompeo has positively given ASEAN the thumbs-up as he tells ASEAN that the US will remain committed to the rule of law in the South China Sea. He added that Washington also wants to move ahead with more investment in the Indo-Pacific region, stating that ASEAN had been the top destination for US investment in Asia.
"The US is a pacific nation and we remain committed to ASEAN centrality under our Indo-Pacific strategy," he says.  A price tag of nearly US$300 million will be provided in new security funding for South-east Asia that will reinforce security cooperation throughout the entire region, Pompeo said.
It will also invest US$113 million in technology, energy and infrastructure initiatives in emerging Asia, which he called "a downpayment on a new era of US economic commitment to the region". He also called for pressure to be maintained on North Korea as concerns mount that Pyongyang is making slow progress towards denuclearization.
Critics said that this enthusiasm for talks is a means for China to buy time and solidify this position during a period of relative dominance in the region. Only time will tell if China is really buying time, but what's far more conclusive is the ASEAN-China strategic partnership that both sides have endorsed with a strategic overview of ASEAN-China cooperation in the future.
Dr Balakrishnan said he looked forward to the adoption of the statement called the ASEAN-China Strategic Partnership Vision 2030, when ASEAN and China meet again in November.
"All in all, ASEAN-China cooperation has enjoyed a very good run over the last three years, but there is much more to be done," he says.