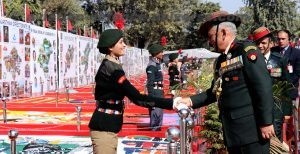 General Bipin Rawat Chief of Army Staff visited the NCC Republic Day Camp 2018 at the DGNCC Camp.
Contingents of all the three wings namely Army, Navy and Air Force presented an impressive "Guard of Honour" to the Chief of Army Staff on his arrival. NCC cadets thereafter presented a fine band display. The COAS also visited the 'Flag Area' prepared by the NCC cadets depicting various social awareness themes and cultural activities. The cadets briefed him in detail about their respective State Directorate themes.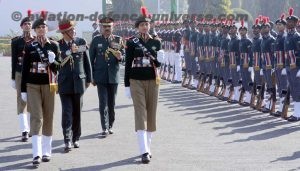 The versatile NCC cadets then presented a spectacular Cultural Programme in the NCC auditorium comprising group dances and ballet showcasing the rich cultural heritage of our Nation.
The COAS congratulated the 'Guard of Honour' for the impeccable turnout and drill and the bands for their excellent display. The COAS expressed his happiness that many ex NCC Cadets hold very high offices in the Government and Armed Forces and urged the cadets to put their heart and mind in everything they undertake and become role model for the youth of our nation. On arrival, he was received by the DGNCC, Lieutenant General BS Sahrawat, SM.