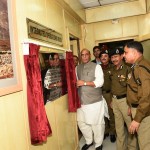 New Delhi. 26 February, 2016.
The integrated operations control room of BSF was inaugurated by Home Minister Rajnath Singh. He was briefed for the updated systems of control room. In the new system, the online data received from field formations are integrated with satellite imageries. This integrated data is projected on a three dimension wall for better assimilation and collation. The improved systems will enable control room to respond effectively.
It was followed by inauguration BSF developed project of Tele-medicine. This project is enabling the BSF men deployed on far flung areas on Frontiers where specialists in medical field are not available. Through this project advices of super specialists from Delhi are made available there. This is a revolutionary step in providing adequate medical care to BSF personnel, right upto their work place. Union Home Minister was given a demonstration that how patients and doctors are connected online. The medical facilities already available in BSF have been reinvigorated with this step.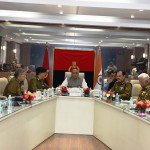 The BISAG (Bhaskaracharya Institute for Space Applications and Geo Informatics) project was also launched today. The BISAG is a platform for satellite communication, working specially in Gujarat. BSF is availing this facility for establishing a dedicated communication link to BOPs for broadcasting welfare, administration and healthcare related programmes. The project was demonstrated and Shri Rajnath Singh addressed BSF Jawans sitting on BOPs at different Frontiers through this platform.
A documentary 'A Soldier's Diary' was released by Shri Rajnath Singh. This documentary is the addressing the critical and sensitive issue of suicide of Borderman. After detailed research on all probable reasons of suicide by Borderman, help of NFDC was taken to prepare a documentary on this issue. Target audience of this documentary will be the family members of Borderman at their home. The documentary portrays life of a common Borderman. Total commitment required for duty of border guarding needs support from family of the Borderman for taking care of his social obligations. Wherever this support sways away from equilibrium, Borderman falls for such extreme step of committing suicide.
Home Minister was very appreciative of all these efforts by DG BSF and his team. He applauded the professional approach of BSF in discharging duties. Rajnath Singh appreciated specially DG BSF D K Pathak, IPS for his diligent command and futuristic approach. He recalled many past instances where the BSF response in the national security scenario was commendable under the command of D K Pathak, IPS.