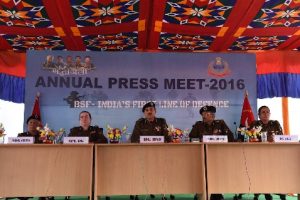 By Sangeeta Saxena & Brig. VK Atray
New Delhi. 01 December 2016. During the nascent years of its raising, the Force was tasked to assist Mukti Bahini during Liberation War of Bangladesh. It is on record that the BSF had been mobilized in March 1971 itself, well before the breaking out of actual war, during the freedom struggle of Bangladesh.
These 51 years have been a Glorious Saga of valour, sacrifices and dedication where BSF has stood up to every challenge and emerged triumphant. BSF has played a pivotal role and contributed immensely to all facets of National Security right from its inception. The force has also played a significant role in smothering the menace of militancy/ insurgency and succeeded in restoring peace in Punjab, Jammu & Kashmir and North-Eastern States for which the Seema Paharies have earned many accolades and decorations.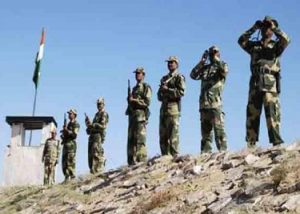 In the wake of recent Samba attack in Jammu and Kashmir in which three terrorists were killed, Border Security Force (BSF) Director General KK Sharma informed that they had anticipated that only a tunnel can be used to infiltrate the Indian side, and had deployed 'nakas' (underground check posts) in depth, through which their team spotted the militants and neutralised them.
He added that they don't have any technology to detect an existing tunnel and to be on the safer side they deploy depth nakas and this depth naka, they actually detected the presence of militants and were in a position to neutralise them.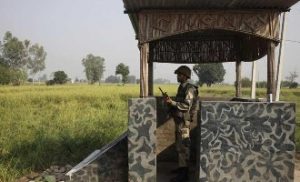 From 25 battalions in 1965 to 186 battalions; deploying more than 250,000 personnel, safeguarding over 7000 kms along the India-Pakistan and India-Bangladesh borders, having recovered almost 1,300 crore worth of heroin during this year , having deployed over 300 personnel to UN Peace Keeping Missions and awarded over 4,000 medals in recognition of Gallant and Meritorious service,
In his annual address to the media on the 51st raising day of the force, he added that , "we had named the recent operations in Jammu and Kashmir as operation Rustom, after the founder father of BSF was K.F. Rustam ji. After the surgical strikes, we anticipated that the problem will not remain confined to the Line of Control, we anticipated that the international boundary would also be affected. And as a result, we made preparations and half the battle is won when preparation is good."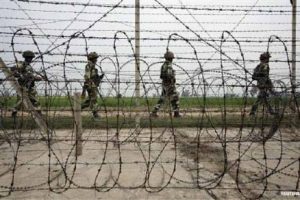 Now a pilot project is underway where an integrated system of Human resources, sensors, networks, intelligence and command and control solutions are being worked upon. BSF's endeavour is to improve situational awareness at different levels of hierarchy to facilitate prompt and informed decision making and quick response to emerging solutions. Major component of this system will be the smart fence, which will be a seamless virtual fence installed comprising of various sensors and laser based technologies. Other components of the system to augment Smart Fence, will be data transmission and communication centre, command and control system and response mechanism.
"With all these measures, endeavour is to make our response system highly accurate and effective. In place of making a human chain supported by gadgets for detection and then responding to situations, we are trying to use human resource to actively analyse inputs from ultra modern intelligent gadgets and give precise and calibrated responses free of psychological and physical fatigue effects," he said.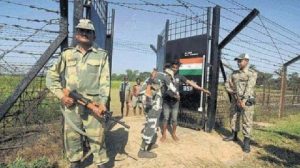 Induction of modern equipment is the step ahead towards keeping the soldier comfortable in the extreme climates BSF operates in. Cool vest are being introduced for troops deployed in extreme hot climatic conditions in Gujrat and Rajasthan Frontier. Boots and goggles for desert area and special boots for creek area are also being introduced for sandy condition. Modern and light weight bullet resistance jackets and helmets are being introduced under modernisation plan of the force.
Sanction for construction of 17 numbers RC helipads on Indo-Pak & Indo-Bangladesh border amounting to Rs. 13.54 Crore has been accorded by MHA.
Sanction for construction of 833 numbers surveillance cum observation post shelter /ACP shelter on Indo-Pak and Indo-BD border amounting to Rs. 97.03 Crore has also been cleared. Land case of 03 Key Location Point (KLP) and 08 BOPs has also been finalised during the current year. So BSF infrastructure development is top priority for the government , keeping the current situation in mind.
New Acquisition of weapons and other equipment is another aim of the BSF as a result of which the 12 Bore Pump Action Gun has been specially developed for use as a security weapon. It is a single barrel breach loading weapon superior to 12 Bore DBBL. Due to rapid reloading by pump action and spread of shots, it is an ideal weapon for counter ambush tactics. Total 4491 Nos Pump Action Guns have been authorized to BSF by MHA.
More than a month and the volatile situation between two never in love neighbours seems to have made India sit up and take a look into its porous borders to ensure that Pak sponsored terrorists find it difficult to operate in the tough terrains. There is a drastic need for faster implementation of border infrastructure projects, procurement of weapons , combat clothing, multi and specific terrain vehicles and the list is endless. BSF stands tall despite deficiencies and hope the government sits up and takes serious stalk of its needs.