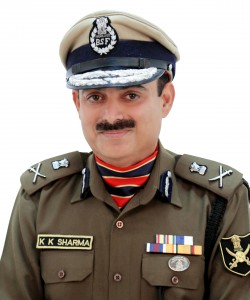 New Delhi. 29 February, 2016. K K Sharma, IPS took over the charge oas the 23rd Director General of BSF.
Born on 30th September 1958 in New Delhi, K K Sharma is alumni of Delhi University. He did his LL.B. from Delhi University before joining Indian Police Service.  K K Sharma possesses also the Post Graduate Certificate in Criminal Justice and Police Management from Police Training College, Bramshill United Kingdom and University of Leicester, United Kingom.
He belongs to the 1982 batch of the Indian Police Service and was allotted the Rajasthan Cadre. In his early days in the Indian Police Service has served in several districts in Rajasthan. In addition he has served as ADC to Governor Rajasthan (two tenures). He did a  stint in CID (CB), Rajasthan. Served in Special Protection Group, Cabinet Secretariat, Govt. of India as Assistant Director and Deputy Inspector General and in Ministry of Civil Aviation (Govt. of India) as Inspector General of Police & CVO (on deputation to India Airlines).
Joined on 28th Sept 2012 as Inspector General in BSF served as IG Kashmir Frontier.  he was also Addl Director General/ Director BSF Academy Tekanpur and Addl Director General (Operational) at FHQ BSF, New Delhi.
K K Sharma has been decorated with Indian Police Medal for Meritorious Services in August, 1999 and President's Police Medal for Distinguished Services in August, 2009. He has been awarded with several DG`s Disc's and commendations.