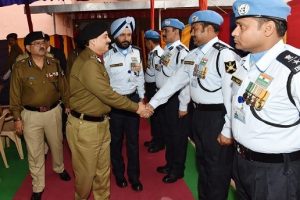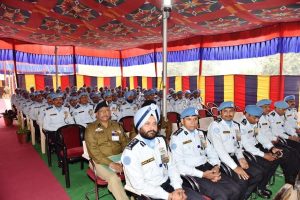 New Delhi. 30 January 2016. The BSF contingent for United Nations Organisation Stabilisation Mission in the Democratic Republic of the Congo (MONUSCO) was flagged off by K K Sharma, Director General, BSF.
The Indian Formed Police Unit-II (11th BSF Contingent) proceeding on BSF UN Peacekeeping Mission at DR Congo has a total strength of 140 personnel and will perform the duties of FPU-II (Formed Police Unit-II) at Congo. The party comprises of 07 Officers, 08 Subordinate Officers and 125 members of Other Ranks. The contingent is being led by Kanwaljit Singh, Commandant BSF. This is the 11th consecutive contingent of the BSF to Democratic Republic of Congo and will be deployed from February 2017 for one year.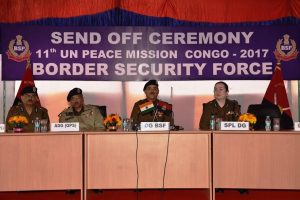 To meet the prevailing Challenges in Democratic Republic of Congo, BSF Contingent has been trained with specific reference to combat the menace of civil war and assist the local-police in maintaining Law & Order. A Specific capsule training was imparted by the BSF to the Peace Keeping Mission Personnel including knowledge of French language, Mob dispersal, riot control, protective patrolling, driving, aid to civilian, human rights etc. as per the guide lines of the UN.