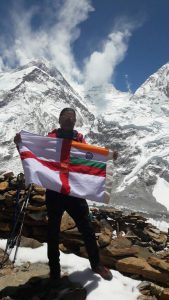 New Delhi. 21 May 2017. "The harder you fall, the heavier your heart; the heavier your heart, the stronger you climb; the stronger you climb, the higher your pedestal." aptly applies to Breeze Sharma, a Defence Civilian of Indian Navy, whose dreams to climb Mount Everest were shattered when an Earthquake induced Avalanche hit the Everest Base Camp in 2015. The brave heart  despite being buried under heavy snow, managed to get out, and even helped local authorities in the rescue operations, to help those who were badly injured.
With the Nepal government helping to extend the permit for 2 years it was a relief for few who dared to go again. Today morning, BM Sharma, also popularly known as Breeze Sharma, has created history, by becoming the first Indian Navy Defence Civilian to summit Mt Everest, and he could also be the first Defence Civilian to achieve this rare feat.
"Climbing to the top demands strength, whether it is to the top of Mount Everest or to the top of your career" – Dr  A. P. J. Abdul Kalam
Last year Breeze Sharma gained rookie entry in the world's toughest foot race. Badwater 135miles in USA and he completed it to become only the second and the fastest Indian at the event. This year he also broke his own previously held record of 24 hours Treadmill Running Asian Record by clocking 202.50 kms.