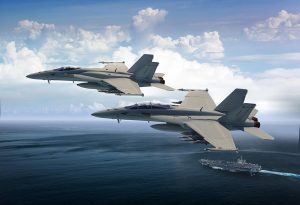 Carrier based fighter for high stress operations
Conducted tests for launching Super Hornet off ski jumps
New Delhi. 01 September 2020. Recently Boeing and the US Navy have been conducting tests of operating an F/A-18 Super Hornet from a ski jump at Naval Air Station Patuxent River to demonstrate it is STOBAR compliant for the Indian Navy. In STOBAR (short take off but arrested recovery) aircraft carrier operations, fighters get airborne by flying off a 'ski-jump' like slope at the end of the flight deck and Indian aircraft carriers in the making and of the future have this requirement.
The F/A-18 Super Hornet Block III offers the Indian Navy a carrier-based fighter for high- loading, high stress operations, the F/A-18E/F Block III Super Hornet requires minimal support equipment and will offer low cost per flight hour with high mission readiness.
The F/A-18E/F Block III Super Hornet can act as a force multiplier for the Indian Navy as it interfaces with assets such as the P-8I.
Boeing's 'For India – By India' sustainment program builds on the company's nearly eight decades of history in the country, leveraging existing programs, growing supply chain capabilities and partnering with the local industry.
The Super Hornets will be sustained in India, in partnership with the Indian armed forces as well as India and U.S.-based partners throughout the lifecycle of the aircraft. This will further enable its growth and develop advanced expertise in maintenance, resulting in higher availability of the aircraft, at competitive pricing and reduced risk for the Indian armed forces.
The Block III version which is currently being manufactured for the United States Navy can perform virtually every mission in the tactical spectrum including air superiority, day/night strike with precision guided weapons, fighter escort, close air support, suppression of enemy air defence, maritime strike, reconnaissance, forward air control and buddy refueling.
Significant technology insertions in the form of advanced cockpit, new computing & advanced data link, conformal fuel tanks, increases airframe life and ability to carry wide variety of weapons will be available in the Super Hornet Block III. F/A-18 Block III Super Hornet will offer superior economics to the Indian armed forces in the form of low cost of acquisition, operations and high mission readiness.