By Sangeeta Saxena
New Delhi. 16th October, 2015. Boeing Chairman Jim McNerney was for sure the star at the houseful aerospace innovation summit "India's Time to Fly", which attracted some out of professional commitment and some out of curiosity. And mind it, curiosity never kills that cat in the modern world.
McNerny's statement , "The Indian Air Force needs many more fighter planes with the capability of interception, ground attack and air defence. We are hoping there will be a fighter campaign over the couple of next years. We will take the current state – of-  the – art fighter and bid . Our bid will have a proposal to make the aircraft here," got a wow from the audience, which was in any case listening to him with bated breath.
There are very few countries where Boeing's complete portfolio can find an ally. India is one of them. "Indian military capability is great  and keeping in mind the geopolitics and the shaky neighbourhood, it makes sense. We saw these deals coming  and hoped we would get them. About 8 years ago we decided India would be as important as any where else in the world for us. Our USP is good sales and even better after sales. Secret is to have a team here that can work with the customers 24/7. They tried to build the organization ahead of the requirement," he reflected on the mantra of Boeing's success in India.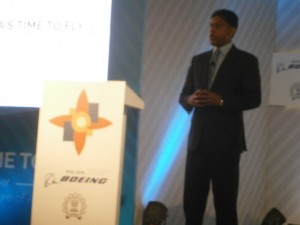 Lauding Prime Minister Modi's Make in India programme  he feels it is a very important initiative of the country and the capability of the people is clear and obvious. " Modi driving the nation is taking it 2 or 3 levels above.  Our aim is to design and Make in India for India and a global market. Democracy is easy to work with. We can even think of assembly of entire airplanes . We are committed to take the Indian capability to that level. Make in India is not just someone handing you a blueprint and you make it. It can't be that way. I think the vision of the prime minister is more than that."
McNerny added that global CEOs were happy that India was starting to listen to them, and added that he was very optimistic about India. But some things needed to change, especially the tax regime and long delays in dispute resolution, which he is hopeful will happen soon.
 "We live in a world that's demanding more for less. Companies like Boeing are always on the lookout for the competitive advantages that come with innovative new technologies and long-term partnerships. India, with its broad, deep engineering capability and skilled workforce, is a natural partner that offers us the long-term opportunities that can differentiate us in the marketplace and bring mutual success to the company and the country, " he reiterated.
Talking about giving the best of Boeing to India and best of India to Boeing, its India president Pratyush Kumar said, "India had last month signed a contract for 15 Chinook and 22 Apache helicopters. Large sections of the Chinook fuselage are already manufactured in India and discussions are ongoing with our Indian partners to make Apache parts,"
Boeing organized the summit in collaboration with the Indian Institute of Technology Bombay as part of Boeing's centennial celebration. Participants included government officials, industry leaders, academia and research institutions. It showcased the ideas and innovations that are changing the industry and the people in the Indian aerospace industry who are creating them.
The summit included an area where Boeing displayed full-scale mock-ups of the Integrator UAV and SHARC unmanned marine vehicle, as well as interactive displays that highlighted partnerships with Indian firms manufacturing aircraft components under Boeing's support for the 'Make in India' initiative.