Lucknow. 07 February 2020. Bharat Electronics Limited (BEL) has signed a contract with the Ministry of Defence, Government of India, to establish Phase-II of the Coastal Surveillance System or Chain of Static Sensors developed for the Indian Coast Guard (ICG).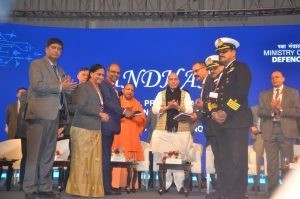 The contract envisages, among other things, setting up of 38 Radar Stations and five Command and Control Centres against a stiff time line, and at challenging geographical locations along the coast line of India, including that of Lakshadweep, Andaman and Nicobar Islands.
BEL had earlier implemented Phase-I of the project successfully on turnkey basis by establishing 46 Radar Stations and 16 hierarchical Command and Control Centres. The system, which is operational, is being utilised by ICG for more than four years.
The BEL Coastal Surveillance System (CSS) comprises a network of Remote Radar Stations equipped with sensors like Radar Systems, AIS (Automatic Identification System), Electro Optic Systems, Meteorological Systems and VHF Radio Communication Systems integrated with the Command and Control Centres. The CSS solution provided by BEL is software intensive and has been developed entirely in-house. The Coastal Surveillance software can be customised to meet the operational requirements of customers, depending on their need. This CSS software is also provided with various decision support features.
The system caters to the requirement of Maritime Surveillance applications to detect, track, identify and monitor suspected threats to facilitate appropriate action by the security agencies.
The data from all the connected Remote Radar stations received at the respective Command and Control Centres are correlated, processed, integrated and displayed in real time on a Common Operation Picture Display for carrying out surveillance operations. The data may further be communicated to higher hierarchical level Command Control Centres for facilitating decision-making and initiation of suitable action, if required.