First PSU to be recognised as Role Model Organisation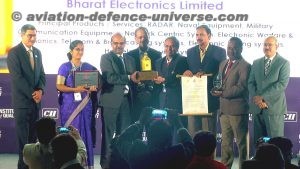 Bengaluru. 24 November 2018. The Bangalore Complex of Navratna Defence PSU Bharat Electronics Ltd (BEL) has won the twin honour of CII EXIM Bank Business Excellence Award (2018) and the Jury's Commendation for Role Model Organisation. The Award is the highest level of recognition in the CII-EXIM Bank Award for Business Excellence, established by the Confederation of Indian Industry (CII) and Export Import Bank of India with the aim of enhancing the competitiveness of India Inc.
Gowtama M V, CMD, BEL, along with senior officers Mr Girish Kumar, Officer on Special Duty, Rani Vergis, ED (Finance)/BEL-Bangalore, Mohanraj S, GM (Quality)/BEL-Corporate Office, and Ramakumar, AGM (Standards)/BEL-Bangalore, received the prestigious Award for BEL at the Quality Summit organised by CII in Bengaluru on November 23, 2018.
The CII recognises organisations at three levels: Gold Plus (First Level), Platinum (Second Level) and Award (Highest Level). One of the Award winning organisations is declared as Role Model Organisation based on the highest levels of excellence demonstrated by it in certain key parameters. BEL's Bangalore Complex is the first PSU to be recognised as Role Model Organisation by the CII in the history of the CII EXIM Bank Business Excellence Awards. In addition to Bangalore Complex, three other Units of BEL — Ghaziabad, Chennai and Machilipatnam — have received the Platinum level recognition for Business Excellence from CII. These four Units, which have won the Award and recognitions, account for around 80 per cent of the Company's business and people.
"While it is a great honour to receive this recognition, it also brings in the added responsibility of living up to the expectation of our stake holders. I am sure this award will infuse enthusiasm into our employees and increase their resolve to continue on the path of excellence," he added.
Some of the salient achievements of BEL-Bangalore considered by the Jury in selecting BEL-Bangalore for the Award and Role Model recognition, as highlighted in the award citation, were: the Unit's Customer First approach to business, Delivering Value to its stakeholders, Never-say-Never Attitude in pro-actively investing in technology and infrastructure, building key partnerships and developing competencies in the work force.
In his acceptance speech, Gowtama M V, CMD, said he was happy that four Units of BEL had received this prestigious Award and recognitions for excellence. He thanked the customers of BEL for reposing their trust in the Company and extending unstinted support in all its endeavors. He also thanked BEL's founding fathers who had put in place a set of robust standards, systems and procedures which had helped the Company to sustain its performance over the years.