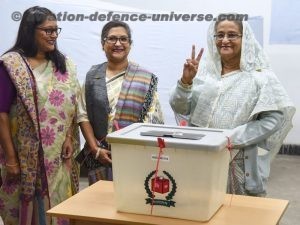 By JK Verma
New Delhi. 01 January 2018. Prime Minister Sheikh Hasina hit the hat trick by securing landslide victory in the parliamentary election held on December 30th, 2018. Sheikh Hasina's Bangladesh Awami League and its allied parties won 288 seats. In the elections held in 2014 Awami League won 234 seats and Jaitya Party (Ershad) won 34 seats while the main opposition party Bangladesh Nationalist Party (BNP) of Khalida Zia boycotted the elections, as BNP did not participate, 153 seats remained uncontested. In 2018 election, BNP also participated, although Khalida Zia is imprisoned under corruption charges and was also barred from contesting elections. She claims that it is a clear cut case of political vendetta. Khalida Zia is also suffering with mild attack of paralysis. Her son Tarique Rahman acting Chairman of BNP has taken refuge in London to evade a life-term sentence. In their absence the alliance was led by the 81 year old lawyer Kamal Hossain who also worked with Hasina, as minister. Nevertheless the performance of the BNP as well as of the alliance dwindled and Awami League increased its tally.
There are a total of 350 seats in the parliament, out of which 50 seats are reserved for women, hence election was held for 300 seats. There are about 104 million registered voters, who casted their votes in 40,199 polling stations. First time electronic voting machines were used in about six constituencies in the election. Sheikh Hasina bagged 229,539 votes while the main contestant from BNP got only 123 votes.
The opposition parties alleged that election was farce, rigged and flawed because of massive violence. The opposition also demanded that fresh election should be held under an impartial government. The opposition parties alleged that there were wrongdoings in 221 seats out of 300 seats contested and the goons of ruling party stuffed the ballot boxes. One correspondent reported that he saw the filled ballot boxes at a polling station before the polling started. Only the polling agents of ruling party were allowed at the polling stations and there were serious complaints that the voters were threatened to cast their votes to the ruling party. More than 40 candidates of opposition parties withdrew, before the conclusion of voting as they alleged massive rigging and intimidation by the ruling party and administration. The Election Commission accepted that the complaints about rigging were from all over the country and the commission will look after the matter. The election commission has also suspended voting at 22 centres in the country.
In view of speculation of widespread violence Bangladesh Telecommunication Regulatory Commission suspended 3G and 4G connections from December 29 till completion of elections.
The opposition National Unity Front (NUF) which is the coalition of Bangladesh Nationalist Party (BNP), Jatiya Samajtantrik Dal (JSD), Gono Forum, Krishak Sramik Janata League and Nagorik Oikya etc. rejected the poll results.
The BNP also mentioned that more than 12,923 persons belonging to NUF were injured in about 2,833 attacks occurred on opposition candidates and their supporters. About 1,574 cases were filed against NUF supporters between 8 November and 25 December in different parts of the country. The security forces have arrested 15,568 NUF supporters during the corresponding period. Few newspapers have also claimed that there were widespread violence against workers and supporters of opposition parties. On December 30 more than 18 persons were killed in the violence between supporters of ruling party and opposition.
The opposition parties also alleged that there were bogus voting and when their voters reached at the polling stations they found that someone else had already voted for them. The polling officers closed the polling booths under the garb of lunch breaks and voters were not allowed to cast the votes. In the lunch breaks ballot boxes were stuffed with forged votes. The ballots were counted hastily which also indicates the malafide intentions. The opposition parties also alleged that the Sheikh Hasina has become very authoritarian in last ten years.
However the Awami League leaders stated that these opposition candidates withdrew as they understood that they will lose with considerable margins. Prime Minister Hasina also mentioned that the party workers of opposition, attacked their workers and when they realised that there is no chance to win they alleged about rigging of the elections. The Awami League leaders remarked that there was overall progress of the country during Hasina's tenure hence the electorates voted for the party.
Bangladesh achieved economic growth and its GDP has increased during Hasina's tenure. The manufacturing sector especially garment industry became second after China in the world. 2.5 billion Overseas workers pumped about $15 billion in the economy of the Bangladesh last year. The country has adopted a liberal investment policy and simplified conditions for doing business; it encouraged foreign investments, permitted liberal tax holidays, reduced duties for importing machines, unrestricted exit policy, repatriation of dividends etc. She allowed constructing 100 special economic zones and agreed to revitalise policies pertaining to energy and infrastructure.
India is also investing in Bangladesh and trying to generate employment in country which may reduce the illegal migration to India. The illegal migration has created several problems in the Indian states including the change in demography.
Prime Minister Modi called and conveyed his heartiest congratulations for achieving the decisive victory and expressed trust that the friendship between both the countries will be strengthened under her "far-sighted" leadership.
Bangladesh is significant for providing the connectivity between India and its North Eastern States as the connection is through a narrow piece of land which is also known as chicken's neck. Both India and Bangladesh signed several agreements under which India transports goods and passengers from West Bengal to Tripura. India is also using Chittagong port frequently.
In view of increasing Islamic fundamentalism in the Muslim majority state of Bangladesh the 11th Parliamentary elections has direct implications on India's security. Al Qaeda in the Indian Subcontinent (AQIS) and Islamic State of Iraq and the Levant (ISIL) are also trying hard to establish their units in Bangladesh. Saudi Arabia is sending money for the construction of mosques and Madrassas, which is increasing Wahhabism in the country. The government of Awami League is regulating these donations which will be good in long run, as it will not allow Islamic extremism to escalate.
Hundreds of thousands of Rohingya Musims have taken refuge in the country and are residing in a very pitiable condition. There are reports that the nefarious Inter Services Intelligence (ISI) of Pakistan is trying to win over Rohingya Muslims to carryout terrorist activities in India as well as in Bangladesh against the present Hasina government. ISI wanted that BNP come to power with the support of Jamaat-e-Islami (JI) as ISI uses India Bangladesh borders for infiltrating terrorists inside India. Rohingya Muslims were migrated to Jammu and settled there. Few of them were also caught in Kashmir valley along with terrorists.
During the regime of Khalida Zia, Jamaat-ul-Mujahideen Bangladesh (JMB) became very active in Bangladesh as well as in India. Sheikh Hasina took stern actions against terrorists of JMB which was good for both the countries. Tarique Rahman is a known India baiter and is close to ISI, although at present he is in London but he is in contact with ISI. Hence it is good that friendly government of Sheikh Hasina returned to power, as it would be difficult for India to manage both Western as well as Eastern borders simultaneously.
Sheikh Hasina played a pivotal in destroying camps of North East terrorist outfits and also handed over Anup Chetia, the General Secretary of banned United Liberation Front of Assam to India.
Bangladesh is also important for India as China which considers India as its potential adversary has encircled India. Sri Lanka had to lease out Hambantota port to China and took control of two islands of Maldives and deployed nuclear powered submarine in Marao Islands, Pakistan which is passing through an economic crisis has already given control of Gwador port while analysts claim that China will occupy arable land of Gilgit and Baltistan as well as exploit mineral resources of Balochistan. Prime Minister of Nepal Khadga Prasad Sharma Oli who is the Chairman of the Nepal Communist Party is very close to China. He signed several agreements with China to lessen Nepal's dependence on India. China has also established signal intelligence unit in Coco Islands of Myanmar.
China also wants to control Chittagong port of Bangladesh which is the second busiest port in the region. China has financed a container shipping facility in the port with ulterior motive of gaining control of the port. However Sheikh Hasina government made it clear that it will not allow the use of port for any military activities.
Bangladesh is progressing under the accomplished leadership of Sheikh Hasina. She has stopped the reprehensible activities of ISI and other terrorist groups from Bangladesh. She is also against the spread of Islamic extremism and wants to have cordial relations with India, hence the victory of Awami League is good not only for Bangladesh but for India too.
(Jai Kumar Verma is a Delhi-based strategic analyst and member of United Services Institute of India and Institute for Defence Studies and Analyses. The views in the article are solely the author's. He can be contacted at editor.adu@gmail.com)