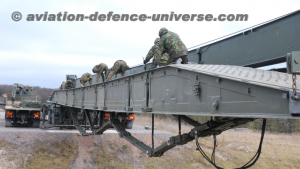 New Delhi.  13 January 2019. Whenever it comes to BAE Systems what comes to all minds Indian  is the M777 artillery gun procured for the Indian Army . But there is one product which the British Defence major  talks about less but is a real boon is its bridging system – used by the British Army – which provides the most flexible, rapidly deployable military gap crossing solution in the world.
BAE Systems designed and built the Modular Bridging System (delivered to the British Army under the BR90 programme) and has provided continual support since it went into service.
The Modular Bridging System is used by soldiers to rapidly undertake assault crossings and restore vital lifelines and military routes. The all-encompassing design also offers rapid replacement of civilian infrastructure in combat and peacetime disaster relief.
The system is light enough to be transported by air and lifted by helicopter, yet the bridge panels are strong enough to withstand the weight of Main Battle Tanks such as Challenger 2, equivalent to six double decker buses. During its lifetime, each bridging system is designed to withstand typically 10,000 crossings in its worst case load condition, for both tracked and wheeled vehicles and in extreme military environments.
Thespecialised and experienced bridging team is now working on upgrading the system to meet the British Army's needs to 2040 and beyond, as part of the MOD's Project Tyro. The project aims to update or replace the MOD's bridging system to cope with greater loads and to ensure it remains operationally available and effective until 2040.
The versatile package the company offers includes a full range of bridges, as well as launch and support vehicles, which provide gap-crossing capability for both wheeled and tracked vehicles. This is in addition to an on going validation programme to achieve a Military Load Classification in excess of 100.
The Close Support Bridge (CSB) System provides a rapidly emplaced battlefield mobility capability for use in direct fire zones. CSB can be launched or recovered from under armour in less than 2 minutes by the Titan armoured bridge laying vehicle. Bridge types include:
No.12 Close Support Bridge – Launched and recovered by Titan in less than 90 seconds
13.5m long, 12m maximum span and up to 28.5m when used in combination and is transportable by Tank Bridge Transporter
No.11 Close Support Bridge – Launched and recovered by Titan in less than 90 seconds
16m long, 14.5m maximum span and up to 34.5m when used in combination and is transportable by Tank Bridge Transporter
No.10 Close Support Bridge – Launched and recovered by Titan in less than two minutes
26m long, 24.5m maximum span and up to 64.5m in combination and transportable by Tank Bridge Transporter
Combination Bridges – Up to three No. 12, No. 11 or No.10 can be deployed to provide gap crossing for extended gaps. Trestle set available to allow assault bridges to cross deeper wet or dry gaps.
The General Support Bridge (GSB) system provides the British Army with a mobile tactical support bridge which can be rapidly emplaced to operate successfully within the military environment indirect fire zones. It has been designed and validated to the requirements of the Trilateral Design and Test Code for Military Bridging and Gap Crossing. Bridge types and enhancement kits include:
Single Span General Support Bridge – Launched by ABLE in less than 30 minutes at night by a crew of 1030m maximum span, supported by two Bridging Vehicle load carrying vehicles
Long Span Equipment – Enhancement kit to the General Support BridgeEnables bridges up to 56m to be constructed – UK Launch Limit 44m
Two Span Equipment – Enhancement kit to the General Support Bridge. Enables two-span bridges to be constructed with fixed or floating piers using Pontoons
Launch and support vehicles
The Modular Bridging System is deployed, recovered and fully supported by a range of vehicles, all designed and built by BAE Systems and its legacy companies:
Automotive Bridge Launching Equipment (ABLE)
Tank Bridge Transporter (TBT)
Bridging Vehicle (BV)
Titan armoured bridge launcher
Bridge Test Facility
BAE Systems operates a specialised Bridge Test Facility at its Telford site which allows it to perform both dynamic and static tests on its bridges. This facility is the only one of its kind in Europe and one of only two worldwide.
This facility gives the evidence it needs to underwrite the safety and performance of the bridge panels as part of the UK MOD's Project Tyro, which seeks to upgrade their bridging system to meet the customer's needs.
Military Bridging for the future
In designing a new bridge for the British Army, it has used new technology that actively monitors the fatigue life of the bridge – this lets soldiers see quickly and easily how much life is left in the bridge so gives them complete peace of mind in its safety and effectiveness. BAE has also used new techniques to offer more protection for the bridge panels against harsh environmental conditions. It will continue to evolve its bridging systems to ensure they remain the most flexible and practical gap crossing capability available for Armies on the move. .