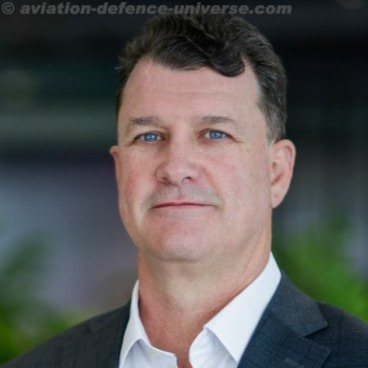 New Delhi. 08 October 2023. "In my role as the newly appointed India Managing Director at BAE Systems, I will work towards strengthening our presence in the country and uphold the company's spirit of collaboration to fulfil our commitment to co-create a self-reliant India," Adam Watson, Managing Director, BAE Systems India.
ADU. As the new India Managing Director of BAE Systems, what will be your strategy for India and how are you planning to support the Government's initiative of Atmanirbhar Bharat in Defence?
Adam Watson. The contours of the Indian defence landscape are evolving which is making India an exciting and promising market internationally. For BAE Systems, India has always been an important market. Our presence in India spans over seven decades, and we continue to explore avenues to partner with Indian Armed Forces on new projects and are committed to strengthen India's national security with our advanced capabilities and futuristic defence technologies.
The cornerstone of our strategy lies in partnering with the Indian industry – both manufacturing and technology based across our capabilities in Air, Land, Sea, Cyber and Space. As a founding partner of defence manufacturing in India, BAE Systems acknowledges India's progress, and we wholeheartedly endorse the government's vision for 'Atmanirbhar Bharat' and Make in India. Our partnership with India has evolved significantly during the past 10 years and this is reflected in our mission of Co-Creating for a Self-Reliant India. Our partnerships with indigenous defense entities like Hindustan Aeronautics Ltd and Mahindra Defence Systems Limited (MDSL) are widely recognized within the industry, and we anticipate further enduring alliances of this nature.
Over the last year, we have continued our quest to expand our collaborations with the local industry. This is why, at Aero India 2023, we announced a MoU with India's FSTC under which we will work jointly to develop simulator technologies for Hawk Mk132 and also signed a MoU with Bengaluru-based NewSpace Research and Technologies to explore opportunities to collaborate in next generation uncrewed systems and associated technologies.
ADU. The Hawk programme in partnership with Hindustan Aeronautics Ltd is a classic example of Make in India collaboration. What is the latest update on the programme?
Adam Watson.  We take pride in our enduring partnership with Hindustan Aeronautics Ltd (HAL) and our production line in India, where the Hawk aircraft is assembled, serves as a testament to the success of the Make in India initiative in the realm of defense manufacturing. India stands as the largest operator of the Hawk Advanced Jet Trainer, with 123 aircraft ordered to date, and there is no doubt that the Indian Hawks are world-class aircraft.
Building on the success of the Hawk Mk132, which has exceeded 100,000 flying hours with the Indian Air Force and the Indian Navy, we continue to stand by for a potential repeat order to fulfil the Indian Air Force's requirement for its prestigious aerobatic team, the Surya Kiran.
At present, our primary objective is to enhance the overall technological quality of our products and services. To achieve this, we have entered into a collaboration with India's FSTC to jointly develop simulator technologies. This technology, designed for Hawk Mk132, is a realistic synthetic environment to facilitate high-standard pilot training.
ADU. How is BAE Systems planning to support the Indian Navy in its modernization?
Adam Watson. BAE Systems has earned a strong reputation for its proficiency in conceiving and advancing cutting-edge maritime defense capabilities. This is evident in our expanding portfolio within the maritime sector, encompassing a wide array of assets such as aircraft carriers, amphibious assault ships, destroyers, frigates, corvettes, auxiliary vessels, submarines, naval guns, and carrier-capable aircraft like the F-35, showcasing the breadth of our maritime expertise.
 BAE Systems is one of the pioneers in designing, manufacturing, and supporting complex surface ships, submarines, torpedoes, radars, and command and combat systems. One prime example of our capabilities are the HMS Queen Elizabeth Class Carriers, which represent an engineering challenge of unprecedented scale and complexity for the United Kingdom; a national endeavour, involving six shipyards and 10,000 people.
During our long association with India, we have also supported Indian Navy with the development of Indian Navy Ship (INS) Nilgiri, a Leander-class frigate, and through our Sea Harriers and Hawk Mk132 Trainer Aircraft.  Currently, the Indian Armed Forces have a strong desire to modernize their naval assets, and we remain firmly dedicated to assisting them in this endeavor, drawing upon our extensive experience and expertise in the maritime sector.
ADU. BAE Systems has also recently partnered with Larsen and Toubro (L&T) to offer BvS10. Please provide more details on this partnership.
 Adam Watson. We are thrilled to partner with Larsen and Toubro (L&T), which is one of India's leading construction and defence companies, and to bring the world-leading all-terrain vehicle, the BvS10, to the Indian market. We have signed a licensing and manufacturing agreement to offer the BvS10 for the Articulated All-Terrain Vehicle (AATV) for the Indian Armed Forces. BAE Systems and L&T have co-developed the BvS10 to meet the specific requirements of the Indian Armed Forces. This new variant will be known as the BvS10-Sindhu.
 The BvS10 is well suited for the Indian Armed Forces and will play a crucial role in supporting them in various missions. The BvS10's articulated mobility, provides optimal maneuverability across varying terrains including snow, ice, rock, sand, mud, swamps, and steep mountain environments. The vehicle's amphibious features also allow it to swim in flooded areas or coastal waters. It can deliver personnel and supplies as well as mounted lethality to address any threat in the modern operating environment.
 Our collaboration with L&T marks another significant milestone in our expanding portfolio of domestic partnerships, and we are enthusiastic about the prospect of working closely with them to collectively strengthen the defense capabilities of the Indian Armed Forces.
ADU. Recently, India's National Security Council Secretariat (NSCS) and the UK Government in collaboration with BAE Systems conducted Cyber Security Exercise for 26 Countries. Are you offering any technology in cyber realm as well?
Adam Watson.  BAE Systems is one of the leading suppliers of cyber, intelligence and security capabilities and it was amazing to play our part in the recent cyber security exercise. Our BAE Systems team facilitated a bespoke scenario based on threat intelligence and operational experiences, with 26 countries taking part. Designed by our engineers, the exercise explored the complexity of decision-making in response to ransomware on Critical National Infrastructure. Today, the cyber threats are becoming more advanced and therefore it was a great experience to play a part and give partner nations the opportunity to test their capability in a secure and controlled environment.
Our cyber portfolio encompasses a spectrum of offerings, such as risk advisory and governance, security testing, incident response, the development of national-level cyber defence capabilities, and the management of enterprise network security. We eagerly anticipate the opportunity to assist India in fortifying its cyber defenses and safeguarding critical national information whenever the need arises.