Lampertheim, Hessen, Germany . 02 July 2020. AWB offers its customers various special containers that are individually adapted to the respective requirements. Due to the large number of containers already manufactured, the AWB has extensive know-how.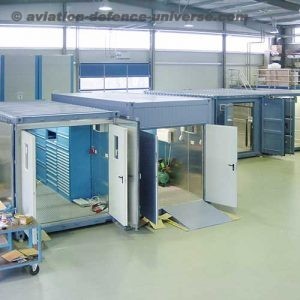 Mobile workshop container, tool set container with all tools for large construction sites, special containers with mobile production and test benches, container for the storage of spare parts including assembly and refilling, containers for coolants and hazardous substances, containers for special transports, containers with electrical engineering and control cabinets and special containers for use at sea, AWB constructs anything for everyone's needs. Not to forget Air Flite and AirTaxi stations, mobile security containers for drone control and defense, mobile security gate for crowds of people and many more such tailor made solutions.
In addition to the pure delivery of the containers, the AWB also performs inventories and overhauls the containers. All special containers are delivered directly to the customer's construction site. With the special containers, both purchase and rental are possible.
All mobile workshop containers are individually equipped for customers with drilling and turning equipment or workbenches. In addition, the AWB's mobile workshop containers have their own energy supply.
The tool set containers of the AWB receive all the necessary tools individually adapted to the needs of customers. All special tools are manufactured by the AWB. In addition, the AWB purchases all other tools, checks and documents them.
The mobile production and test benches can be used on large construction sites and for the commissioning and maintenance of special machines. It can also be used to build temporary production facilities.
As a network partner of numerous research institutes, universities and industrial companies, it is working on innovative future technologies and materials for the aerospace industry. Aerospace is the beginning of a revolutionary change. Energy costs, global warming, renewable energies, hydrogen fuel cells, lightweight construction, shuttle systems in urban and rural areas. This requires technologies and materials that do not yet exist with these requirements. AWB Aviation combines research and implementation and develops the technology of the future in various networks.
AWB works in new, particularly weight-reduced classes of materials for high-heat-resistant engine construction and its machining processes, workpiece and tool monitoring in the area of ​​machining, production security and quality control, development of a lightweight fuel cell for future aircraft types, development of a hydrogen filling station system for the aviation, flexible and mobile flight and service station (MRO container) for urban areas or for open fields and in optimization of the postprocessing processes of 3D printed aircraft parts.