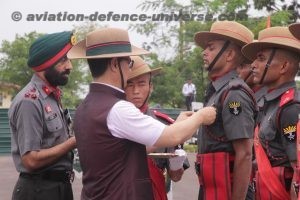 New Delhi. 20 May 2018.
 233 Recruits including 22Mahila Recruits inducted into the Assam Rifles in an 'Attestation Parade' held at the Assam Rifles Training Centre and School, Sukhovi. Kiren Rijiju, Minister of State for Home Affairs reviewed the parade.
While addressing the recruits, the Minister highlighted the antecedents of the Assam Rifles as the oldest Para Military force of the country and its diversified role which is all encompassing in the present day environment, ranging from security to providing welfare and developmental assistance to the civil population.  He stated that North East is a strategic area and its security is of paramount importance.  The Assam Rifles is playing a stellar role in this regard. He complimented Lt General Sukhdeep Sangwan, SenaMedal and Bar, DGAR for leading the force to its present stature and providing the futuristic window for its expansion.  He also complimented Brigadier Gurjap Singh, Commandant ARTC & S and his team of dedicated staff for imparting value based training to the recruits for their future as trained soldiers of the nation.
MoS presented awards to the passing out recruits for their outstanding performance during training. Rfn Sameer Ojha was awarded the medals for being the Best All Round Recruit. RfnArun Singh, Rfn Hemant Khatiwada and RfnAashish Kumar Jena were awarded the medal for being best in Firing.RfnShivanand Chauhan, Rfn CB Chhetri, Rfn H Abuto Sumi and RfnPriyaPraveen were awarded the medal for being best in Drill while RfnPushpaThapa, RfnAniketTripathi, RfnChampaTirkey and RfnSomyaRanjan Das were awarded the medal for being best in Physical Training.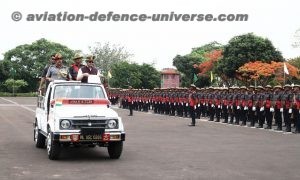 He witnessed the training activities of Mahila Recruits in the Centre insurgency training area where the recruits displayed their weapon handling, battle obstacle course, bayonets fighting skills and demonstration on small team operations for conducting a raid on underground hideouts. He brought out that robust training of Mahila recruits will not make them capable of a worthy warrior but will also empower them in different facet of professional and personal life, resulting in further enhancement of the paramilitary force.  Hon'ble Minister also visited the NB Thapa Indoor Sports Complex of ARTC & S.
He also addressed troops of the Centre and appreciated the role played by Assam Rifles in ensuring security, peace and development of the North East Region. Home Minister complimented Assam Rifles for their par excellence professional commitment which he said has been aptly illustrated by the laurels and the gallantry awards won by the force.
He exhorted the Assam Rifles personnel to keep up the good name of the Force by way of hard work and dedication and keep the Assam Rifles flag flying high in the true spirit of it being the "Sentinels of the North East" and "Friends of the Hill People".
Minister of State for Home Affairs KirenRijiju visited Assam Rifles Training Centre & School . He was received by Lt General Sukhdeep Sangwan,SenaMedal and Bar, Director General Assam Rifles and Brig Gurjap Singh, Commandant Assam Rifles Training Centre & School and other officials of civil administration.