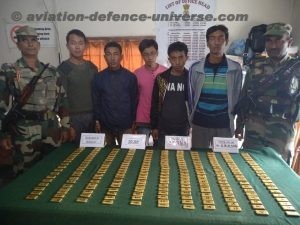 New Delhi. 01 August 2018. Serchhip Battalion of Assam Rifles under 23 Sector of Inspector General Assam Rifles (EAST) apprehended five Myanmar nationals with 218 gold bars weighing 36.316 Kgs worth over Rupees 11 Crores.
The five individuals were travelling on three Kenbo motorcycles along Vaphai Saikhumpha Road when they were intercepted by Assam Rifles and Customs and Excise Department, Mizoram approximately 3.5 km from Indo Myanmar Border. Four of the detained Myanmar citizens are from Chin District while one is from Hriag Neai District, Myanmar.
Apprehended individuals along with recovered gold have been handed over by Assam Rifles to Customs and Excise Department. The recovery of huge quantity of gold worth over 11 Crores yet again highlights the need for effective implementation of Free Movement Regime (FMR). Provisions under FMR facilitate mov of indls from either side upto a depth of 16 Km on either side of the IB. Provisions of FMR are increasingly being exploited by smugglers across the open IB.