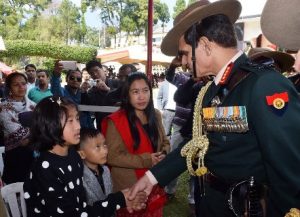 By Col NB Saxena
Shillong. 16 November 2016. The Assam Regiment that represents the Warrior Prowess of the Northeast is celebrating their Platinum Jubilee at Shillong, the capital of Meghalaya and erstwhile undivided province of Assam.
The Regiment was primarily raised to quell the enemy aggression and defend a crucial part of Eastern borders of India. On the occasion of the raising on 15 Jun 1941, Sir Robert Reid, the Governor of Assam said "You are the living symbol of Assam's martial ardour, the embodiment of her physical strength and I have no doubt your steadfastness, your bravery, your skills and your endurance will surpass all".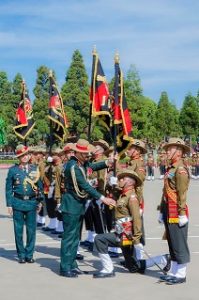 Gen Dalbir Singh, the Chief of the Army Staff (COAS), presented the colours to the four young Battalions of the Assam Regiment; 16 & 17 ASSAM , 1 & 2 Arunachal Scouts in colour presentation parade led by Brig Sudhir Kumar Jha, Commandant, Assam Regimental Centre in presence of Lt Gen Praveen Bakshi, GOC-in-C Eastern Command, Lt Gen Subrata Saha, Colonel of the Assam Regiment and Arunachal Scouts and other serving and veteran dignitaries at Assam Regimental Center, Shillong, Meghalaya today.
The COAS also dedicated the expanded and renovated War Memorial to the Regiment. This war memorial was inaugurated on Nov 24, 1953 by Shri Bishnuram Medhi, Chief Minister of Assam . Etched on the hallowed walls are the names of 376 martyrs. The expansion and renovation of the War Memorial was initiated in mid 2015 and took almost a year to complete.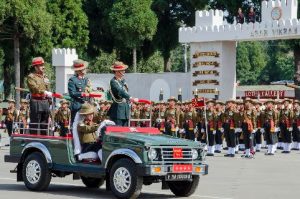 The First Battalion proved its mettle by winning six battle honours and theatre honour of Burma during World War II. Soon after Independence, the Third Battalion demonstrated its prowess by winning a Theatre Honour of J&K 1947-48 in Keri Sector. The Fifth Battalion put up a valiant fight in the battlefield of CHHAMB in 1971 winning the Battle Honour CHHAMB and Theatre Honour J&K 1971. The Fifth Battalion is the only Infantry Battalion to have been awarded this Battle Honour for unparalleled valour and sacrifice in this sector.
The Regiment has excelled in all other operations to include Op Rakshak, Op Rhino and Op Meghdoot. It has also performed commendably in United Nation Mission at Cambodia, Congo and Lebanon. The Regiment has so far been awarded Nine Chief of the Army Staff Unit Citations, Twenty Three Army Commanders Unit Citations and Two United Nation Force Commander's Unit Citations.
In the field of games and sports, the Regiment has secured 27 Gold, 17 Silver and 14 Bronze medal at International level and 152 Gold, 132 Silver and 110 Bronze at National level. The Regiment won the coveted YBC Championship in 2005. The marching contingent of The Assam Regiment was adjudged as the best Marching Contingent both in Army Day and Republic Day Parade 2016. The Assam Regiment Marching contingent was also adjuged as best Marching Contingent during Army Day Parade 1995, 2004 and 2008 respectively.